RSS AutoPilot – the unique content extractor – WordPress plugin
Check out
LIVE DEMO
of a unique WordPress plugin developed by CodeTiburon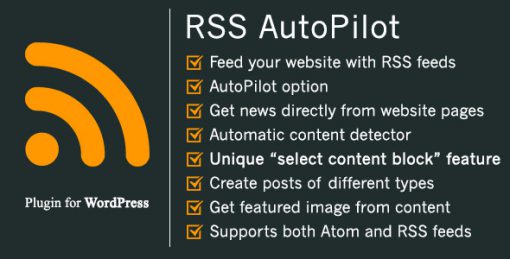 Feed your website with RSS feeds
Get news directly from website pages
Automatic content detector
Unique "Content Extractor" feature
Get featured image from content or set it manually per feed
Supports both Atom and RSS feeds
Automatic links removal
WordPress "More" tag and canonical URL support
Post excerpts configuration
Content filters
AutoPilot option
Translation ready
RSS AutoPilot overview
RSS AutoPilot is a WordPress plugin capable of downloading Atom and RSS feeds and creating posts in WordPress using either the summary provided by feed or grabbing content directly from a website by means of a unique Content Extractor feature that allows you to manually pick content or automatically detect it. This feature moves feed content parsing to the next level.
Video
Requirements
PHP 5.3 or newer (5.4 recommended)
libxml php extension
MBstring php extension
XML PHP extensions: DOM and SimpleXML
cURL or Stream Context (allow_url_fopen=On)
iconv extension
Screenshots
You can buy RSS AutoPilot plugin exclusively on CodeCanyon website.