Real Estate Website: Advanced WP Solution for Luxury Sotogrande
Transforming simple CMS into a fully customized functionality-packed structure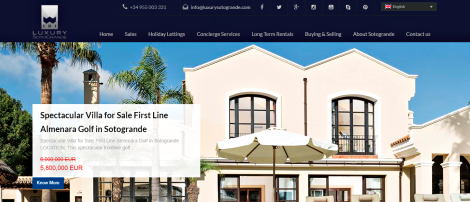 Easy and efficient administration for real estate agents
Classical layout, user-friendly interface, interactive mode
Lightweight responsive design and enhanced site performance
Advanced methods of intellectual property and data protection
Context
Client
Luxury Sotogrande is a leading luxury Real Estate company for marketing and selling luxury property in Spain's largest and most prestigious privately owned residential estate of Sotogrande.
The challenge
Every real estate agency knows a unique profile of their customers that largely predetermines their choice of property and area. Our greatest challenge was to translate this knowledge into specific technological solutions that would help to reflect the site's concept and idiosyncrasies. So our project involved a great deal of business analysis.
Another peculiarity was that most of the customisation was to be done after the site's launch, which meant proper decision making was crucial and there was no room for mistakes.
With this in mind, we organized our development process as follows.
Solution
Product Description
The website is designed for people seeking to buy, sell, or rent property in one of Spain's largest privately owned residential developments of Sotogrande, Andalusia. Users who want to sell, buy or rent a villa, a townhouse, an apartment, or a ranch (Finca) for holiday or long-term rental can find and review information about over 100 quality luxury homes presented on the site.
The site is based on a Real Estate WordPress Theme that has been extensively customized with plugins and widgets.
Collaboration Process
The project had an iterative character right from the start. And the implementation of Agile methodology has helped us organize the workflow efficiently and meet the client's business needs. Each of the iterations ended in the client's approval and our update of the production site. So far our collaboration has been largely about customizing the chosen WP theme. But as the product evolves, it's getting beyond a mere customization. The forward-looking solutions we're presently implementing make the site increasingly smart, flexible, multifunctional, and good value for money.
Site logic
The initial request was to structure the site on the basis of the advanced search. So the site's menu had to be elaborated accordingly. The search is the focal point of the site.
Taking care of UX
The end-users of the site are people intending to buy or rent the property located in the vicinity of Sotogrande. The end-customers can be based in Spain or outside. They may be looking for different property types and features. Their encounter with the site may happen through a host of modern devices. And the site has to provide a positive experience in all those instances. Moreover, the overall design should boost this experience and comply with the content. To achieve this, we introduced such features as:
Advanced search customization
Multi-language support and translation option
Currency exchange module
Personalized subscription, allowing potential buyers to be updated on property pricing and property owners to get a free appraisal
A gallery of beautiful large-size quality photos of homes
Possibility to print out a nice-looking page with property details
Administration
Administration module has also been aligned with the agency's concrete needs. Each item of property is displayed on a separate page containing all the necessary details. This content is managed by estate agents. To meet their particular management needs, we have chosen an assortment of tools allowing for the following:
Choose from a variety of attributes (property features, types, location, status, discount, currency type, etc.) to provide a comprehensive description
Choose a target language of description and translation options
Add a video feed (if available) for a virtual tour
Modify the level of confidentiality
Collect and store data about the deals
Convert the information into PDF format with good quality pictures and beautiful layout
Security policy
We make a special point of protecting intellectual property, ensuring confidentiality of the data, and taking proper care of the system's security. Here's how we implement this policy:
Adding a watermark protection for the images in media library
Limited access to the administration panel for certain IP addresses
Anti-virus, firewall, and high-speed cache via Wordfence Security
Protection from bots and crawlers' squandering bandwidth and server resources
'Smart' backup of the site's database and files via Amazon Cloud Services which allows to quickly restore the whole system in case of emergency
SEO-friendly solutions
Automatic optimization of web pages to accelerate page loading and enhance performance through CloudFlare support
Comprehensive site optimization by Yoast SEO and Local SEO
Web presence enhancement
Integration with several other renowned luxury real estate sites has helped to further spread information on selected homes. This process is automated through the use of aggregators.
Read also: Build a Real Estate Listings Site: Hacks, Tips, Shortcuts
Results
Our collaboration continues. But we have intermediate results to take pride in. This is mainly about our transforming a simple content management system into a complex customized structure with certain roles, management, and smart functionality. Still, this case study is in for further updates.