Updated, July 11, 2018
Real estate website development is a hot topic in property industry. Real estate listings websites and search engines take up the bulk of all PropTech solutions worldwide.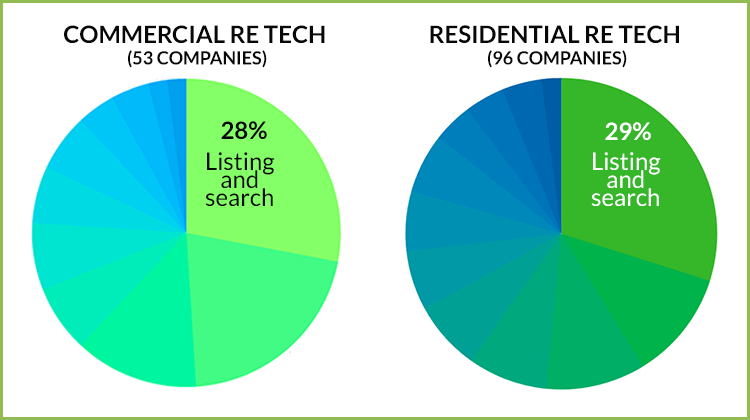 As an entrepreneur researching how to build a listing website, you are most likely to run up against these challenges:
Making it into a highly competitive market
Finding a cost-efficient business model
Getting noticed and gaining trust
In this article we'll teach how to take a shortcut into the real estate tech.
Use the plan to jump to a question of your interest:
Learn from winners: best real estate listing websites
According to SimilarWeb, 10 top real estate listings websites to date are:
Zillow
Realtor
Rightmove
Trulia
Redfin
Funda
Immobillienscout24
Idealista
Cian
Realestate
Compared to other players on the market, these get dramatically large amounts of monthly traffic and, consequently, higher chances of business success.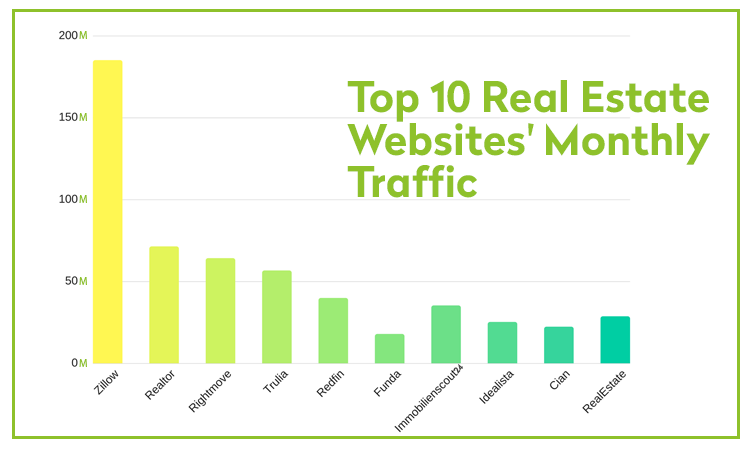 They get their traffic from various sources: direct, organic search, referral, social, and mail. They blog regularly and harness the power of SEO and AI fuelled analytics. But all this is secondary to the basis of a real estate website, which is proper listings integration.
Property listings: a real asset of the digital real estate
Despite the drastic changes in the real estate industry over the past two centuries, its core value – property search – remains the same. Why property listings are vital? Well, that's what your customers come for. If your give them value, they'll come again or refer a friend. So it's important that your listings are well integrated and up-to-date at all times. The competition of providing adequate property listings has been pretty tough lately, especially in the U.S. market, where they are carefully guarded by the cartel of certified realtors, – most listings website providers are contractors of NAR (National Association of Realtors). Below, we'll teach how to get the valuable data to your site.
Another aspect is how easy it is to find what users are looking for on your site. A good search engine is a must on a property listings site. Great user experience will make a user journey through your site smooth and fruitful.
How to choose a working real estate business model
The current state of turmoil in realty is good news for someone determined to make a difference. Clearly, a traditional business model is not the best option – the pricing model is being challenged by shifts in user behavioral patterns. Many RE startups are striving to survive. Some manage to discover a winning formula. Let's explore the listings provider market to see where you can make a mark.
Brokerage & consultancy
That's how RE agents and brokers have always operated. They've tried out a variety of ways – both online and offline, through 3rd-party service providers or via proprietary resources. A lot can be done to adjust the model to the changing homebuyer behavior. In fact, some newcomers are already making a difference here. Meet Redfin – ranking 5th among top RE websites worldwide. The company combines the traditional and innovative approaches. Like a traditional brokerage, it employs realtors, unlike one, it offers a great online-to-offline service. Moreover, they have altered the pricing model to be more affordable to both clients (by providing rebates) and agents (solid salary & commission) – a burning survival issue for many agencies. A lot more can be tweaked here.
However, being a broker entails certain restrictions and commitments. Make sure you know the regulations and the code of ethics that brokers have in your target market.
MLS marketer
Zillow, Trulia, Realtor.com are the best representatives of this group. They act as real estate marketplaces where customers buy ads. That is to say, they sell listings back to the realtors they took the property from. Their pure value is offering the best-ranking virtual platform to place the listings to or take from.
The same model is employed by property renters. Among the successful companies are Airbnb, Booking.com – offering an online platform for short-term lease deals. Airbnb business model has been very popular ever since the rise of on-demand economy.
Whichever way you decide to go, make sure you start small and build long-standing relationships with your end-users. Use their feedback to hack growth. After all, the ultimate goal of a business is customer satisfaction and not technology bragging.
Making sense of the RE technology vocabulary
As a fresher, you may find it confusing to brush through a host of terms like MLS, FTP, iFrame, IDX, RETS, showered at you in all sorts of discussions and forums. But in fact, this alphabet soup is essential for understanding tech aspects of today's real estate across various markets. Let's dive in a bit of a definition analysis.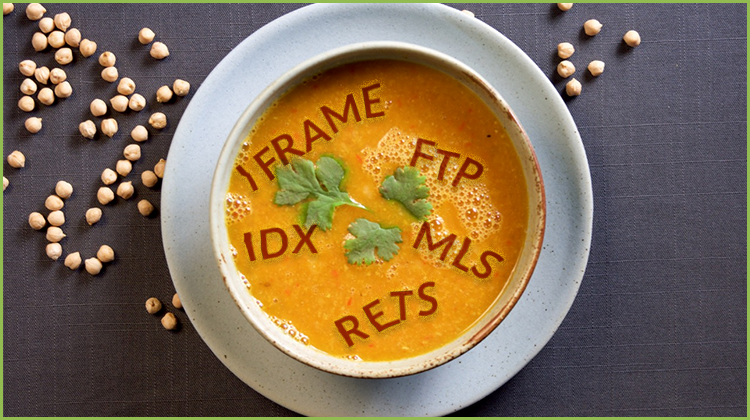 What is MLS
Multiple listings service, or MLS, stands for two things – the real estate property listings and a regulatory cartel model of collaboration by which RE agents and brokers can access and exchange the data. MLS, though associated with the U.S., with its NAR, is not a completely unique entity. It also exists in Canada and some European countries, like the Czech Republic, Italy, and the UK. In Germany, there are three listing services: Immobilienscout 24, Immonet, and Immowelt. Today's MLS system is the digitized data stored in a database and accessible by software provided by private software companies (MLS vendors), the two most common being CoreLogic and FlexMLS.
Building a real estate listing website is impossible without displaying the data. This, in turn, is impossible for an outsider, a non-contractor to NAR. Or is it?
How to get the MLS data for your RE listings website
There's a special technology called IDX that can be implemented in a variety of ways. Each method has its pluses and minuses, which we will discuss below. So, to make sense of the technology, here comes another helping of vocabulary.
IDX
IDX (Internet Data Exchange) is an umbrella term for a particular technology and standards that enable agents to integrate real estate listings from the MLS database into their own websites. Similarly to search engine crawlers, the IDX software crawls an MLS database to extract the relevant data and deliver it to your website, parsed in a searchable format.
An IDX-powered website provides the visitors with the necessary data and can compete with the industry's giants like Zillow, Realtor.com, or Redfin.
So let's explore your IDX options. There are three methods to implement the IDX technology – iFrame, FTP, and RETS.
IFrame
This method involves linking to another MLS site by copy-pasting a piece of HTML code that opens an MLS search window on your page. Many MLS's actually provide the code and allow to implement it. Cost-free!
But is it the best method? Since no transfer of data actually takes place, your site doesn't get content. Not at all SEO-friendly, right? Also, the optimization options are limited.
Why should you care about that? Well, obviously you want your website to get spotted by more users. So your website's content and design can make or mar this effort. A website lacking content, especially original content, is not so attractive or ranking high in Google or Bing. So free of charge isn't necessarily good.
FTP
FTP (File Transfer Protocol) is a method previously used by realtors to send files from an MLS to an agent. The technology synchronized the website with an MLS database by sending updates at regular intervals say twice a day. A good thing was that the data were relatively fresh and the site showed in the search results. On the downside, however, was the absence of a unified format – every MLS required a unique way of integration, which made the implementation and maintenance of technology really costly. Now there is a newer method – RETS.
RETS
RETS stands for the Real Estate Transaction Standard. It's a framework introduced in Canada and the USA in 1999 to facilitate the real estate data exchange. Its original purpose was to ease the pains of RE data aggregation. In effect, the framework helped to standardize the data format.
Compared to the other two methods, RETS is a better option for boosting your 'SEO juice', as updates occur as frequently as once every hour. It has several other advantages as well:
Data extraction has become more streamlined;
Role-based security eliminates data vulnerability;
Cost-efficient due to simple implementation and less need for tech support;
A simpler programming model;
Provides a range of open source tools and libraries;
The use of web services offers benefits like interoperability, usability, reusability, and deploy-ability.
As the name suggests, the use of RETS is restricted to one specific industry – real estate and it's in great demand in Northern America due to its peculiar RE listings system. In fact, it has been successful enough to allow the industry's giant Zillow to dump the 3rd party listings provider, ListHub, and opt for a direct acquisition of the data.
Programmers at CodeTiburon have provided customers with both standard and custom solutions to integrate RETS with WordPress.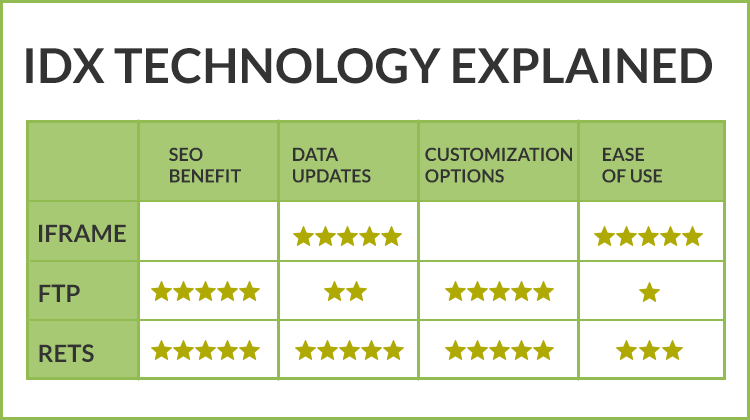 How to integrate IDX in a WordPress website
Why on earth WordPress
Why would I want WordPress, you may ask. You heard of it as solely a blogging platform, which is where you're wrong, actually. Specifics aside, WordPress is great for many business areas, RE being just one of those.
The point is, WordPress is perfect for startup and branding purposes – it's a simple, cost-efficient, and elegant solution. It provides you with ready-made professionally designed themes, plugins, and add-ons ranging in quality and price. It allows for a great deal of customization. The 'blog' part takes care of SEO – an indispensable part of building your online presence. It comes with both website and mobile app capabilities. With a bit of expert help, you get smooth IDX integration.
The question of IDX plugins requires delicate approach for several reasons:
Licensing – some MLS restrict the use of alternative technology solutions and offer their own IDX integration capability;
Development budget – it's a matter of preference whether you'd go for a more affordable option that gives you less freedom or otherwise;
The choice of a theme – some themes come with integrated IDX capability, for others, you need to check compatibility with a certain plugin.
That's why we've taken a dual approach – from a theme to compatible IDX plugins and in reverse. Below is our choice of the best WordPress RE listings theme and an IDX plugin.
Disclaimer: we are not affiliated to either of these but have singled them out based entirely on our positive experience of working with both.
The theme
WP Residence is a premium real estate theme totally adored and trusted by over 9,800 agents and agencies. It also allows homeowners directly submit their properties for free, for a fee, or based on a monthly subscription. The advanced search feature is synced with Google Maps and property description cards – so a user immediately sees the details and location of the relevant properties.
Benefits
Highly customizable and flexible, with 350 theme options included
Elegant design and truly responsive layout
Excellent customer support
10 demos for smooth and easy installation
Features
Customizable advanced search/AJAX search/custom field support/9 search design templates
'Save search' option that sends email alerts if changes occur
'Add to favorites', 'compare', 'similar listings' options
'Design your own property page/card' template
Multilingual and multiple-currency support
Print-property and floorplans capabilities
A single agent page, agent info, and 2 types of contact forms with integration to agents' email accounts
30+ header styles and options
Various property list styles, including grid, list, and half map options
Front-end property submission
Built-in monetization system (PayPal, Stripe, Wire Transfer)
And a lot more.
Limitations
It doesn't provide a default IDX plugin, but it supports the integration with several plugins listed below.
MLS/IDX plugins
Optima (by iHomefinder) – fully compatible, nice MLS coverage.
dsIDXpress plugin – with limitations to the use of advanced search, Google Maps filters, etc.
WordPress IDX (by Diverse Solutions) – the plugin of our choice due to its extensive coverage (important for the U.S. market), adorable features, and attractive widgets. A hint: the company is Zillow's acquisition now, with lots of attractive products for realtors. You can get the plugin on a monthly subscription of $29.50 (Basic plan) or $59.50 (Pro).
Payments
The theme comes with a free 6-month support which can be extended to 12 months by additional payment of $17.63. The regular licence costs $59.
The plugin
Perhaps, you have a couple of theme favorites. Check if they are compatible with this great plugin.
Known for its flexibility and rich features, WPL RealEstate (by Realtyna) is among the most downloaded in the WordPress community (4,000+ active installs) with 97.8% of customer satisfaction. WordPress Property Listing (WPL) is a separate system to work with real estate properties. It has its own custom, highly configurable format. Offers support of all RETS-based MLS providers in North America.
Benefits
Excellent coverage for both the U.S. and Canada localities.
Fully flexible database management – you can add/remove/change the fields without custom changing the database;
Feature-rich free basic edition; highly extensible and customizable Pro edition;
Wide range of attractive add-ons (like a mortgage calculator or native custom brand mobile app);
Great support for multilingual sites.
Features
Even the basic option is feature-packed allowing for a great deal of flexibility;
'Add listing' wizard – lets you list by listing, property, and room types;
Property management features;
Google Maps display of search results;
Search by states, cities, and zip codes;
Switching between list and grid modes of search;
And a lot more.
Limitations
To get the most of the plugin, you will want some paid add-ons, which are pretty pricey ($49 – $1400).
Some customization requires fairly advanced tech skills – more suitable for tech startups or developer services.
Themes
Apart from the two native themes – Theme28 & Estato – it's compatible with a wide range of others:
Bridge
Enfold
X Theme
Avada
Be
Agent Press Pro
Divi
Payments
Two editions – basic (free) & pro ($199).
Where to place listings on a website for better UX
Whether you decide to build your website from scratch or employ ready-made CMS solutions like WordPress, just pulling listings to your website with an IDX tool is not enough. You need to make it ridiculously easy for a user to access them from anyplace they land or decide to travel on your website. Customize to highlight your website's value and provide the best of user experiences.
#1 The focal point of your homepage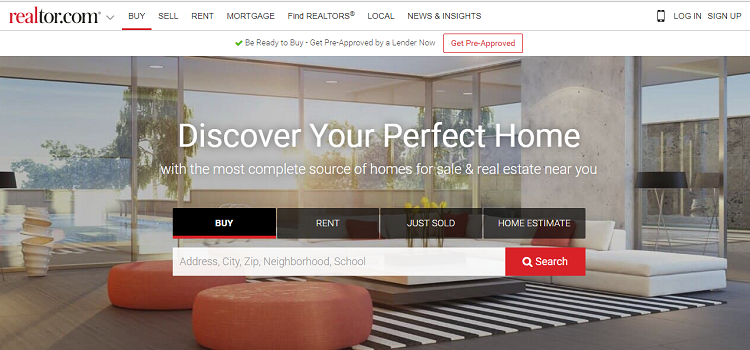 The heart of a real estate listings website is a decent search – make your visitor dive in it off the homepage. Better still, have both quick and advanced search options.
Place a 'quick search' form on your homepage, right above the fold. Here you want to keep it as simple as possible. No need to burden a visitor with too many options – you may add an advanced search feature on another page. Depending on the specifics of your offer, a quick search may include such parameters as 'buy/rent/just sold' or 'short/long-term rent'. Give your visitor a chance to search by cities, communities, schools, MLS number, or zip codes – just prompt them to enter a taxonomy term in the search field, like in the screen above.
Still, if you decide to add an advanced search form to your homepage, make sure it is clear and concise. We'd recommend arranging search options as drop-down menus by various categories (see the screen below).
#2 Listings in the sidebar
Want your listings displayed beautifully? WP plugins will take care of that. Various widgets integrated in your IDX plugin allow you to add different categories of listings to the sidebar ('new listings', 'just sold', 'foreclosures') in a variety of formats.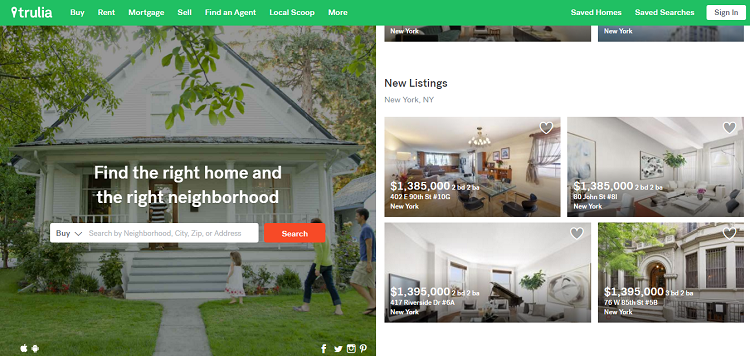 Add a 'quick search' widget. Synchronize the sidebar listings so that they match the search results. Make it easier for users to find the targeted properties with Ajax Live Search or Google Autocomplete. PhoenixRealEstateGuy even has a property search form on their 'about us' page sidebar.
Create beautiful grids of featured properties. Let the users instantly view price, date, and location. Link them to virtual tours, floorplans, mini sites, and more.
A half-map option on a sidebar is a perfect alternative to photography. It goes well both with lists and grids in the page body.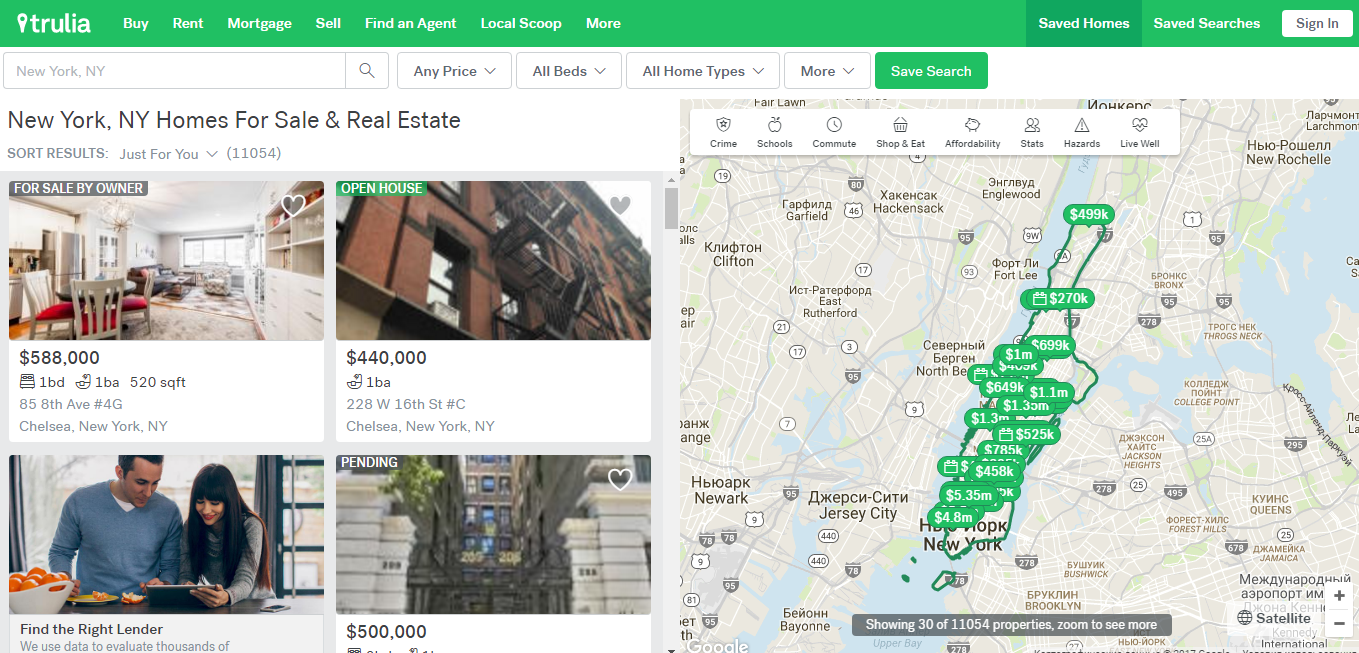 #3 Listings in the footer
Footers have evolved from a place for copyright and policy information towards placing extended website navigation. So why not follow the landing page principle and place a reminder right there?
That's a handy option for someone providing listings for various areas. Alphabetical order is a familiar user-friendly format.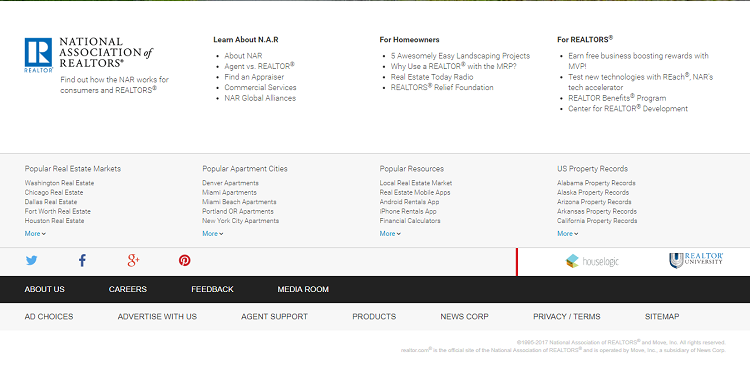 #4 Entire listings page
Want to showcase your multiple listings to the fullest? Why not have an entire page cut out for this purpose? List the properties by the area or choose any other taxonomy. Go with the familiar list format.
You may want to add a customizable advanced search here. That especially works well with complex taxonomies. You want to provide an unforgettable user experience? Then give your site visitor the freedom to switch between various modes of property representation – grids, lists, map views, or galleries.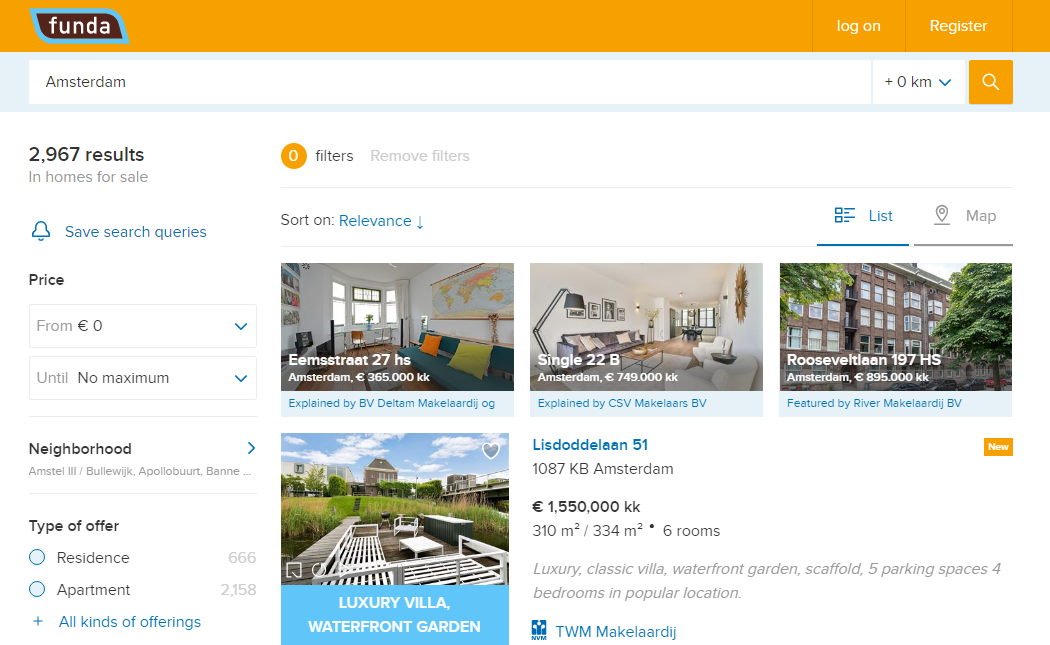 Create an agent roster page and provide links to all the properties in their disposal.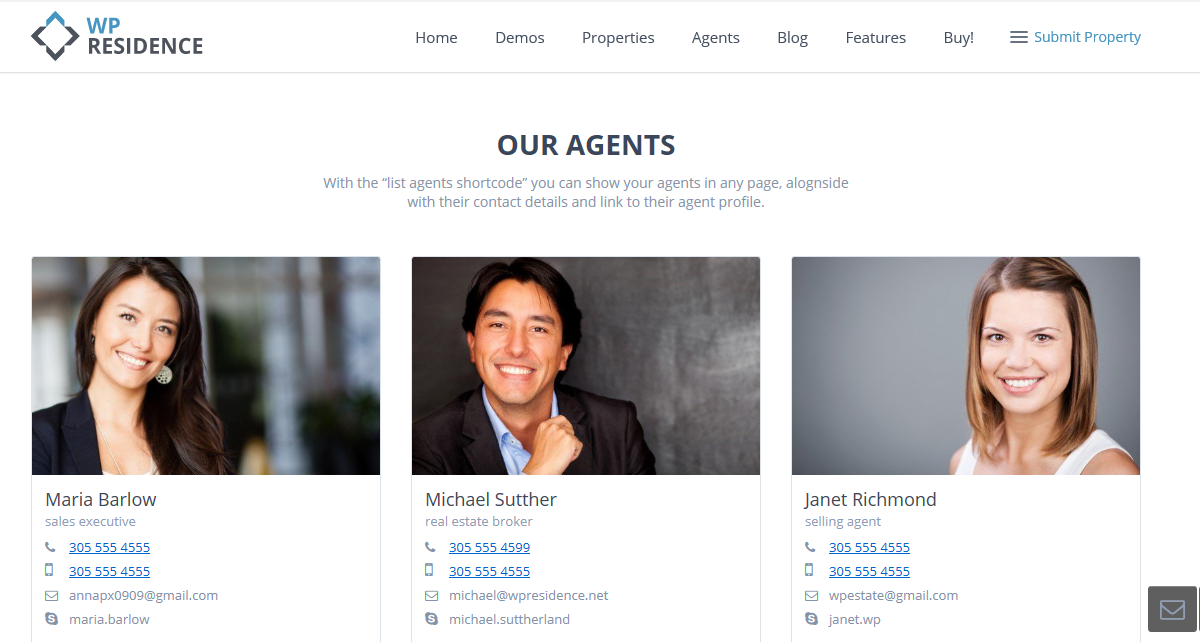 #5 Listings on a community page
Community pages supply the valuable information about an area of search. Even though a person requesting the information may still be uncertain about the purchase or rent, why not give them a chance to tour the latest properties for sale/rent on the local market?
Customize your listings by syncing them with the topic on your community page. For example, make each community page feature relevant listings in its sidebar or footer. Add thumbnail photo sliders or an interactive map below. Better still, frame in a neighborhood tour to give your prospects a feel for the culture and character of the place. A perfect way to capture hot leads!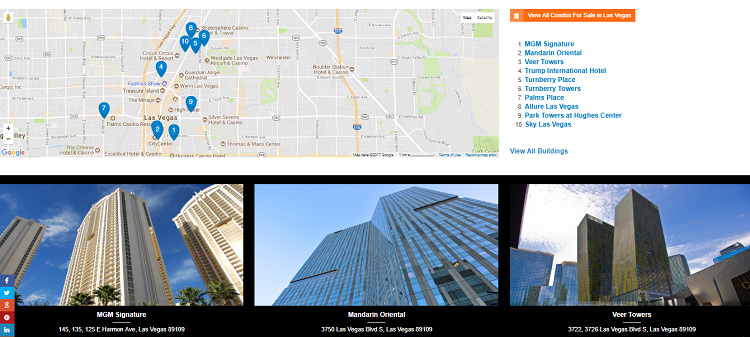 #6 Blog-post 'breaks'
It goes without saying, blog pages are among the most frequently visited. And chances are they will start showing in search results long before your listings pages. So they are a nice place to add your most precious property listings. Place thumbnail galleries of relevant properties, add a single property card or frame a video tour in between the chunks of text. Alternating text and imagery will enhance the aesthetic effect from viewing beautiful scenery and stylish interiors. Create compelling quality content that will occupy your user and clearly indicate your intentions.
So you get the idea, right? Since listings are the core of your site and its primary value, a visitor needs ample opportunities to see them. And it's not only about UX but SEO as well. Let search engine crawlers better index your pages.
How to market your way to the top
No matter how amazing your website's UX may be, it's worth nothing unless seen. How to start getting leads sooner? Marketing makes all the difference. And smart marketing makes you rich. Just a few quick tips as a bonus:
Think mobile: People increasingly use mobiles – go with the flow. Just making your website responsive is no longer enough. Create your own mobile app for branding. Make a handy property search app or an agent's app. Go freemium and provide many useful features for free. Remember, your primary goal now is lead capture, not monetization. Giving great things for free is a necessary evil up until your users start wondering how on earth they have been living without your app all those years.
Analyze & track: unless you know which pages of your site convert, you won't be able to use it to the fullest. So Google Analytics tool is a must.
Use a magnet: automate your services. Invest in a calculator or whatever tool to capture leads in exchange for expert services.
Create farming pages: cultivate your online community with community pages. When it comes to ranking on Google, community pages are an excellent way to increase your search visibility and start showing up on the first page.
Just blog: with an IDX-powered site providing you with timely updates, you might as well call it quits and do no more. But… competition. Be a local expert for your online community and share insights the customers need. It earns you the public authority long before your website gains its domain authority.
Create a sitemap: it costs you nothing. But it's simply unaffordable to ignore all the benefits it provides. Efficient crawling, smart categorization, knowing your audience, and most importantly – getting noticed faster. What else does a new website need?
And above all, remember: there's no silver bullet or one-size-fits-all strategy. Just be creative.
Want to know where to start and how to monetize your RE website? Check this article: Building a Great Real Estate Website – Cracking the Code of Success