Updated, February 8th, 2021
Real estate website development is hot in the property industry. Among PropTech solutions, real estate listings websites and search engines take up a lion's share worldwide.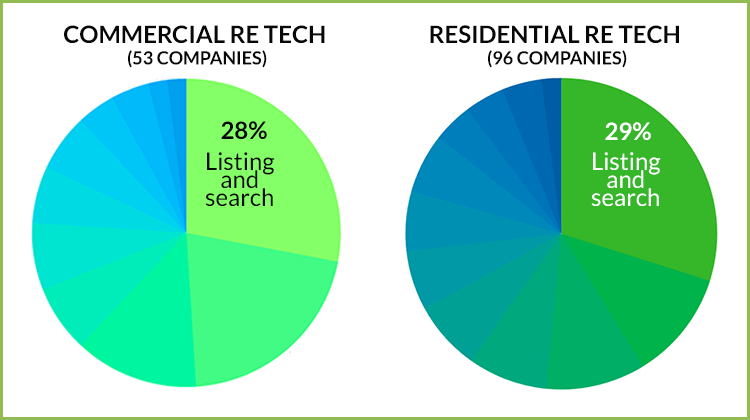 There are plenty of reasons to create a real estate website:
extending a client base;
thought leadership;
brand promotion;
business growth;
cutting competition.
And lots of questions to answer:
How to make it into a highly competitive market?
What's a winning business model?
How to find a cost-efficient development solution?
In this article, we'll share insights on how to create a property listing website.
Use the plan to jump to a question of your interest:
How the best real estate companies use their websites
Top real estate websites rank the highest in global search. And they capture most of the traffic. For example, 10 largest real estate listing portals in the U.S. are capturing nearly half of all non-mobile traffic to U.S. real estate-related websites. Top four on this list have had a stable position over the past five years.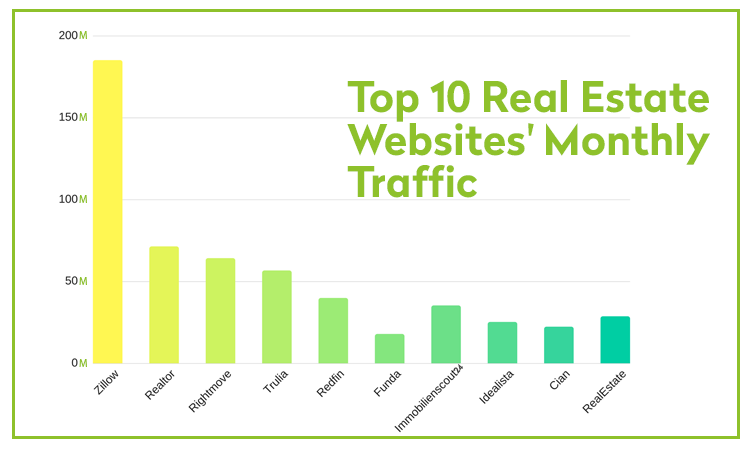 The companies above make a real estate website serve at least one of the purposes:
A communication point. A community page or a forum is among the most desirable features of a real estate website as it allows the company to position itself as a local community expert. By creating a community page, you can both share insights into local life and learn user behavior.
A marketing tool. You can't develop a real estate website without a friendly search engine and convenient customization options. Give it the best of user experience. Most U.S. real estate companies connect to a multiple listing service (MLS) database – a real-time database bringing traffic to sites like Zillow, Trulia, and Realtor.
A one-stop solution. The way we search homes today can make your own real estate website a self-sufficient solution to property purchase. Once gated by realtors and brokers, the data is now in public access. Attract users with quality content, engage them in a captivating journey, and convert them into happy customers.
Inclusive. Build a website for real estate agents so that it doesn't discriminate, but facilitates buyers' as well as sellers' needs and makes use of experts' assistance by balancing personal learning experience and professional aid.
A safety zone. In the case of real estate investing websites, success spells like 'safety and transparency'. That's why RE investment companies practice a strict review process before granting admission. Striking the right balance between the riskiest crowdfunding solutions and the costly consultants' services is a challenge that requires smart technology.
How to choose a working real estate business model
An important question to ask before building your own real estate website is how do property listing websites make money. The current state of turmoil in realty is good news for someone determined to make a difference. Clearly, a traditional business model is not the best option – the pricing model i challenged by shifts in user behavioral patterns. Many RE startups are striving to survive. Some manage to discover a winning formula. Let's explore the listings provider market to see where you can make a mark.
Brokerage & consultancy
How did RE agents and brokers usually operate? They've tried out a variety of ways – both online and offline, through 3rd-party service providers, or via proprietary resources. A lot can be done to adjust the model to the changing homebuyer behavior. In fact, some newcomers are already making a difference here. Take Redfin, ranking 5th among top RE websites worldwide. The company combines traditional and innovative approaches. Like a traditional brokerage, it employs realtors, unlike one, it offers a great online-to-offline service. Moreover, they have altered the pricing model to be more affordable to both clients (by providing rebates) and agents (solid salary & commission) – a burning survival issue for many agencies. More change is on the way.
However, being a broker entails certain restrictions and commitments. Make sure you know the regulations and the code of ethics that brokers have in your target market.
MLS marketer
Zillow, Trulia, Realtor.com are the best representatives of this group. They act as real estate marketplaces where customers buy ads. Here's the best part: they sell listings back to the realtors they borrowed from. Their pure value is offering the best-ranking virtual platform to place the listings to or take from.
The same model is employed by property renters. You know Airbnb, Booking.com, offering an online platform for short-term lease deals. The Airbnb business model has been very popular ever since the rise of the on-demand economy.
How to build a great real estate website: a minimum feature-set
Let's talk about real estate website features. The following five features are a bare minimum for a property listings site.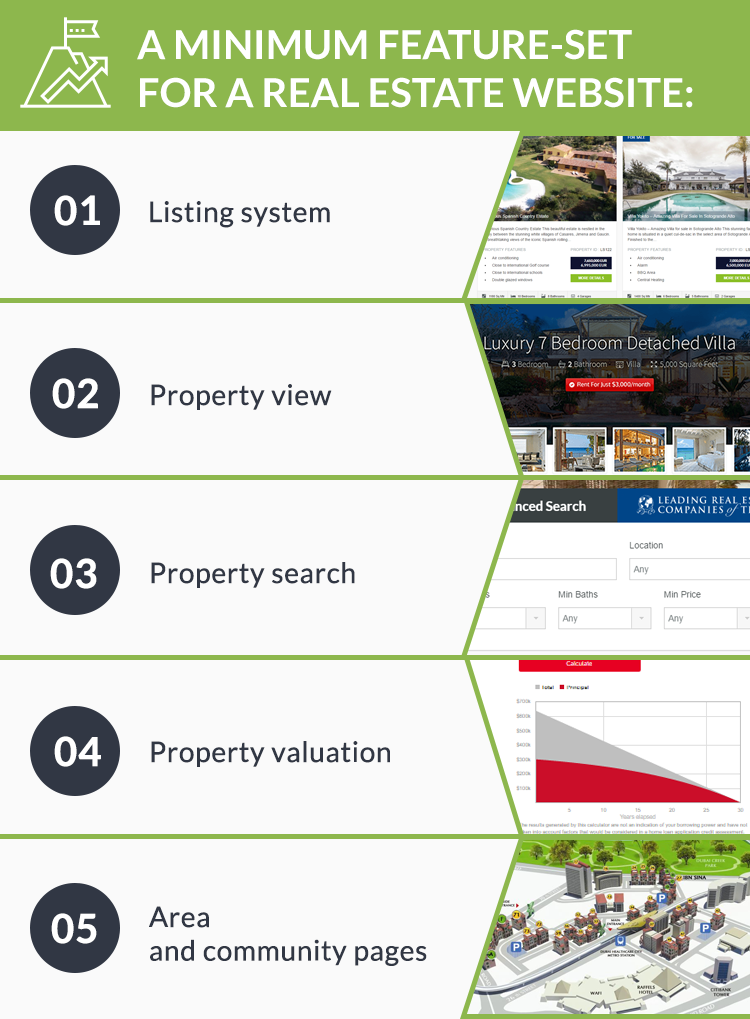 Listings
Listings are property details a user sees on your site. When you build a website for real estate, getting listings is an important task. Whether you pay for 3rd party listings (like MLS), pool resources with other RE companies, single agents, or track FSBO (For Sale By Owner) offers, it costs. Providing fresh data for your target users is crucial.
Property databases are a cornerstone of building a real estate website – the primary reason for its existence. While the older and larger businesses know how to gate the data, you know how to make it available for users. Technology gives you a competitive edge. This is what Zillow and Trulia have over NAR's MLS capabilities.
Views and visualizations
Splash out on professional photography. Proptech companies make it a top priority to invest in quality design and professional photography. It provides:
exceptional user experience;
SEO and better ranking;
brand's credibility;
business success (Airbnb).
These will help to create an exceptional property view:
Verified property photos. Verification is important to protect users from fraud and click baits that unscrupulous sellers can put in order to attract attention. Most authoritative sites boast a photo verification feature, and some (like Airbnb) get professional photographers and home stagers to take care of visuals.
Real estate 360° photography is gaining popularity for both interior and street views.
3D video allows for observing the property to the full before actually visiting it.
AR/VR creates the most immersive experience. That's where reality meets fantasy. A viewer can visualize renovations or virtually design the interior. And the possibility of virtually walking the streets with a VR-enhanced street view offers a transcendental experience. Younger folk are increasingly VR lovers – keep that in mind when creating a unique user experience on your site.
Drone photography. Thanks to drone technology, users get a convenient view of faraway plots.
Dynamic heat maps will be indispensable for newcomers to an area. A perfect way to visualize real estate market trends and form user awareness of vibrant new spots.
Street views give a convenient look at surroundings before you travel to the actual location. You may use panoramic photos of Google's Street View Trusted, make your own ones, or record a video tour, and even enhance a search with an overlay. Street views are great if you explore the property from mobile devices. At the very least, the feature is engaging, informative, and easy-to-consume.
Search
The quality of search outweighs the number of offerings, which makes filtering crucial to a site. Make a real estate website with relevant and easy-to-navigate search filters to give your customers a powerful tool.
Customization
In addition to basic 'must-have' fields, let a user set extra parameters. Provide customized search capabilities (min/max area, the number of bathrooms, etc.) based on local analytics, i.e. what people are looking for in the area. Make it user-friendly by restricting it to the most relevant parameters. This is how Luxury Sotogrande does it.

Real-time experience
Make your search compatible with existing databases. Get an MLS – IDX integration, so that when you add a new property to your MLS, it appears automatically on your website. If you're building your site on WordPress, we'd recommend the Showcase IDX plugin to provide a top-notch browsing experience across a variety of web platforms and devices.
Smart-home technology
Believe it or not, your target clients are getting increasingly innovation-savvy and would prefer smart and green solutions as a separate search category rather than an 'uncategorized' option in your search engine. In fact, 81% of US home buyers would opt for a home with smart products already in place.
Perfect timing to make a mark with your 'smart' home search capability. For example, The California Regional MLS is piloting a program with five fields to describe a home's solar energy system: size, age, ownership, output, and the source of the data. Add it to the backend to 'automatically populate' a set of options for real estate professionals. This new feature provides more than 80,000 realtors in California the ability to list specific solar energy data for the first time, which is pertinent as California is home to many properties with solar features and the tendency grows.
Valuations
Neither sellers nor buyers want to leave money on the table – so expert opinion is mutually beneficial. Professional realtors know that property value is not a constant, especially since transactions are not frequent. It's determined by many factors, like location, condition, the market state, and others. What can make an RE website more trustworthy than its ability to provide adequate property valuation?
Property valuation calculator
Get a tool or build your own web-based one. Take Zillow. It uses Zestimate, an AI-based estimation of property's 'worth'. 'Zestimates' are estimated home values based on 7.5 million statistical and machine learning models that analyze hundreds of data points on each property. And, by continually improving the median margin of error (from 14% at the onset to 5% today), Zillow has since become established as one of the largest, most trusted marketplaces for real estate information in the U.S. and a leading example of impactful machine learning.
Mortgage calculator
The part buyers fear most about getting into property ownership is the financial and legal hassle it entails. How to evaluate the ability to pay the mortgage loan? A mortgage calculator is a useful tool for a buyer. It helps work out how much a buyer will need to cover the loan. You can alter the loan amount, interest rate, and repayment frequency to suit your specific requirements. Granting your users free access to this tool is a perfect way of lead generation.
Community pages
Property search is always location bound. 69% of people who take action on a real estate site start with a local search term. We form our preferences based on neighborhood information. We tend to give more credibility to a website providing quality content. And it's your lucky ticket to beat the competition. Take advantage of creating community pages that provide the necessary insights into local culture and lifestyle. What can possibly create a positive vibe? Local traditions, celebrations, places of interest, special events, and whatnot.
So that's a minimum real estate website feature list if you're planning to create a real estate website from scratch.
IDX options, or how to get the data for RE listings site
If you have decided to create a property listings website that pulls the data from other sources, you need to look into the IDX options.
IDX (Internet Data Exchange) is an umbrella term for a particular technology and standards that enable agents to integrate real estate listings from the MLS database into their own websites. Similar to search engine crawlers, the IDX software crawls an MLS database to extract the relevant data and deliver it to your website, parsed in a searchable format.
An IDX-powered website provides the visitors with the necessary data and can compete with the industry's giants like Zillow, Realtor.com, or Redfin.
So let's explore your IDX options. There are three methods to implement the IDX technology – iFrame, FTP, and RETS.
IFrame
This method involves linking to another MLS site by copy-pasting a piece of HTML code that opens an MLS search window on your page. Many MLS's actually provide the code. Cost-free!
But is it the best method? Since no transfer of data actually takes place, your site doesn't get content. Not at all SEO-friendly, right? Also, the optimization options are limited.
Why should you care about that? Well, obviously you want your website to get spotted by more users. So your website's content and design can make or mar this effort. A website lacking content, especially original content, is not so attractive or ranking high in Google or Bing. So free of charge isn't necessarily good.
FTP
FTP (File Transfer Protocol) is a method previously used by realtors to send files from an MLS to an agent. The technology synchronized the website with an MLS database by sending updates at regular intervals, say twice a day. A good thing was that the data were relatively fresh and the site showed in the search results. On the downside, however, was the absence of a unified format – every MLS required a unique way of integration, which made the implementation and maintenance of technology really costly. Now there is a newer method – RETS.
RETS
RETS stands for the Real Estate Transaction Standard. It's a framework introduced in Canada and the USA in 1999 to facilitate the real estate data exchange. Its original purpose was to ease the pains of RE data aggregation. In effect, the framework helped to standardize the data format.
Compared to the other two methods, RETS is a better option for boosting your 'SEO juice', as updates occur as frequently as once every hour. It has several other advantages as well:
Data extraction has become more streamlined;
Role-based security eliminates data vulnerability;
Cost-efficient due to simple implementation and less need for tech support;
A simpler programming model;
Provides a range of open source tools and libraries;
The use of web services offers benefits like interoperability, usability, reusability, and deploy-ability.
As the name suggests, the use of RETS is restricted to one specific industry – real estate and it's in great demand in Northern America due to its peculiar RE listings system. In fact, it has been successful enough to allow the industry's giant Zillow to dump the 3rd party listings provider, ListHub, and opt for a direct acquisition of the data.
Programmers at CodeTiburon have provided customers with both standard and custom solutions to integrate RETS with WordPress.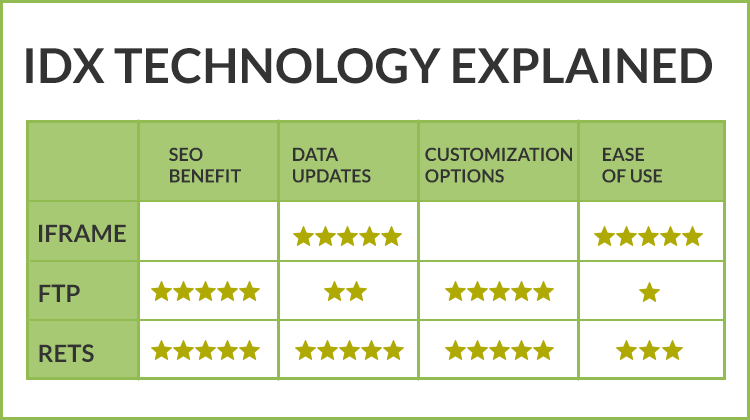 How to integrate IDX in a WordPress website
Next, we'll explain how to build a real estate website using WordPress.
WordPress is great for many business areas, RE being one of those. It's a simple, cost-efficient, and elegant solution for startup and branding purposes. It provides ready-made professionally designed themes, plugins, and add-ons ranging in quality and price. It allows for a great deal of customization. The 'blog' part takes care of SEO – an indispensable part of building your online presence. It comes with both website and mobile app capabilities. With a bit of expert help, you get smooth IDX integration.
The question of IDX plugins requires delicate approach for several reasons:
Licensing – some MLS restrict the use of alternative technology solutions and offer their own IDX integration capability;
Development budget – it's a matter of preference whether you'd go for a more affordable option that gives you less freedom or otherwise;
The choice of a theme – some themes come with integrated IDX capability, for others, you need to check compatibility with a certain plugin.
That's why we've taken a dual approach – from a theme to compatible IDX plugins and in reverse. Below is our choice of the best WordPress RE listings theme and an IDX plugin.
Disclaimer: we are not affiliated to either of these but have singled them out based entirely on our positive experience of working with both.
The theme
WP Residence is a premium real estate theme totally adored and trusted by over 9,800 agents and agencies. It also allows homeowners to directly submit their properties for free, for a fee, or based on a monthly subscription. The advanced search feature is synced with Google Maps and property description cards – so a user immediately sees the details and location of the relevant properties.
Benefits
Highly customizable and flexible, with 350 theme options included
Elegant design and truly responsive layout
Excellent customer support
10 demos for smooth and easy installation
Limitations
It doesn't provide a default IDX plugin, but it supports the integration with several plugins listed below.
The plugin
Perhaps, you have a couple of theme favorites. Check if they are compatible with this great plugin.
Known for its flexibility and rich features, WPL RealEstate (by Realtyna) is among the most downloaded in the WordPress community (4,000+ active installs) with 97.8% of customer satisfaction. WordPress Property Listing (WPL) is a separate system to work with real estate properties. It has its own custom, highly configurable format. Offers support of all RETS-based MLS providers in North America.
Benefits
Excellent coverage for both the U.S. and Canada localities.
Fully flexible database management – you can add/remove/change the fields without custom changing the database;
Feature-rich free basic edition; highly extensible and customizable Pro edition;
Wide range of attractive add-ons (like a mortgage calculator or native custom brand mobile app);
Great support for multilingual sites.
Limitations
To get the most of the plugin, you will want some paid add-ons, which are pretty pricey ($49 – $1400).
Some customization requires fairly advanced tech skills – more suitable for tech startups or developer services.
Long and short, creating a real estate website with WordPress is an optimal solution.
The future of real estate: virtual and augmented reality
Millennials and Gen Z love immersive experiences. They also happen to be your biggest market. So virtual tours before actually making a face to face contact or calling an expert is becoming a common practice.
With virtual and augmented reality your clients will get:
High level of engagement while buying process. AR and VR create experiences that require active buyer involvement. By modeling and animating elements of the desired property they can get a feeling of strong engaging experiences.
The emotional connection to the property. Virtual reality can teleport your customer to the property of his dream.
Ability to customize property before buying it. VR and AR technologies give your clients the opportunity to see the effects of renovation and redesign long before they take the final decision.
Reach out to a prospect. VR and AR technologies grant access to a property from any distance and provide your customer with a meaningful and impressive immersive experience.
Differentiation. These technologies will make you stand out from the crowd. Your customer can walk the hallways and explore rooms of a property as if they were there.
One thing is to talk about how great is virtual and augmented reality for real estate, but another is to actually see how it's used and what benefits it can bring to real estate. To give you a more profound understanding of AR in real estate, here's a story of CBRE Manhattan – the leader in commercial real estate in New York. To promote their properties and to stand out among its competitors CBRE decided to use AR technology.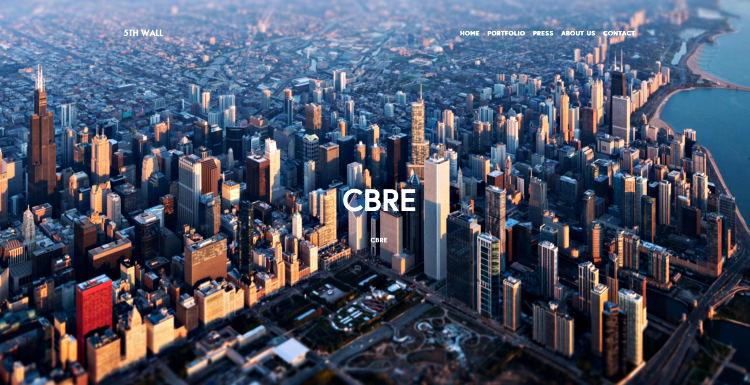 Augmented reality empowers their marketing and sales strategy. They created an immersive and engaging app for their clients. Their goal was to highlight CBRE properties in lower Manhattan and share key decision-making information with prospects in an interactive experience.
The app itself is an Interactive map, where you can see key information of your surroundings such as demographic group, parking, subway, restaurants. This 3D map allows users to learn more about a chosen area. The way it works, you need to point your camera view at the Manhattan map and its 3D model will appear.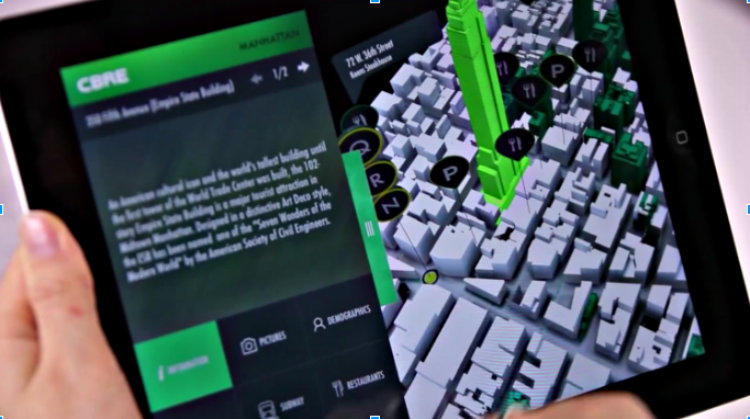 How to monetize your real estate website
The real estate website development cost is always a delicate topic that everyone loves to hate. The idea of a website as a mysterious black hole to pour cash into scares off some entrepreneurs. Others have a vague feeling that their site can easily be a fat cash cow. So if you are eager to know how real estate websites make money and how you can get revenues in autopilot mode, read on.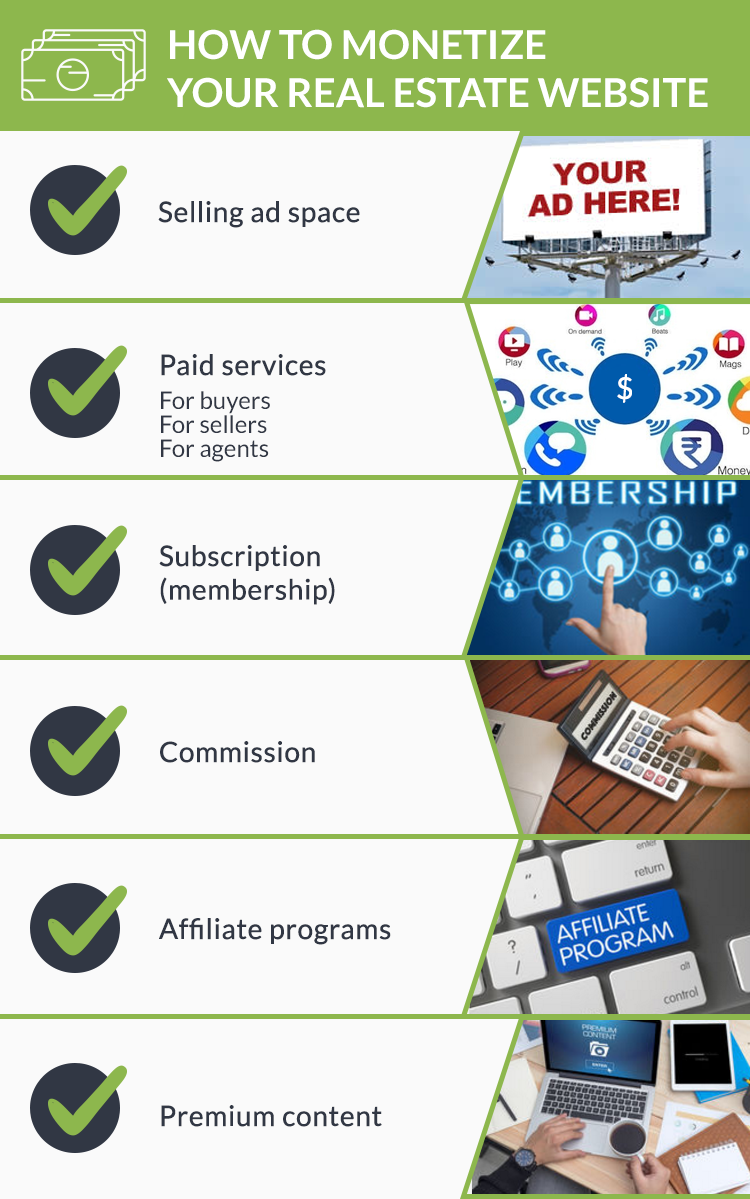 If you're new to marketing, these may not say much. So let's explain.
Selling ad space
Create an account with Google Adsense, a cost-per-click advertising program, and add a piece of HTML code to your website.
Grant other agencies access to advertise on your website. Banner ad revenues are the easiest to get for up-and-coming sites. Your site's admin will place approved banners on top, bottom, or side of a page and then track and report on their efficiency. Most large US sites, like Zillow and Trulia, are data markets, selling advertising around data they've compiled from various sources. RE sites sell advertising to real estate agents, mortgage brokers, banks and others who are seeking the business of property buyers, owners, and renters. The majority of this advertising is display ads, usually sold by zip code, but some sites charge based on cost-per-click or cost-per-acquisition.
Paid services
When your services and tools are exceptionally good and popular, you may limit free access to some functionality or introduce paid options. A common practice is to provide a mixture of free and paid services – a freemium model of payment. Striking a balance between the two allows keeping leads and making a profit.
Paid services are good for everyone:
Sellers. Some functions attractive to sellers can get partially or fully paid, e.g., valuation, post listings, highlight listings, lift up listings, slide-show listings.
Buyers. By placing a mortgage calculator/loan application form, you can get a paid quote request (per lead). Granting buyers paid access to a seller's contact information details is practiced by RE portals.
Agents. Agents may opt for paid services like 'show photo' or 'featured agents (agencies)'. You may create combined packages of services for agents, like Zillow's Premier Agent, for example. It's a CRM platform for agents to promote their listings and find new clients. Zillow has a freemium model for listings placement, which means you can do it for free or you can upgrade to the paid premium plan. The second option gives you two advantages: exclusivity and wider reach.
Subscription
You may range accessibility and fees by creating various subscription plans rather than charge for each service separately.
A subscription business model requires that your customers use your services or product in exchange for subscription fees – periodic (monthly or yearly installments). This is what NAR's MLS do – allow paid members limitless access to their listings. A large Ukrainian RE website Dom.Ria offers several subscription models for single agents and brokers.
Commissions
There are a variety of ways a website gets commissions from: from assistance on posting listings and closing deals; from selling leads to RE agents, etc.
Affiliate programs
Affiliate (or partner) programs allow partners to earn friendly commissions in exchange for driving traffic to the site.
For RE classifieds that are just taking off, there are plenty of affiliate program offers. Just check the sites like offervault or odigger for RE CPA's.
There are affiliate programs allowing RE agencies to partner and get commissions for posting property ads and forwarding users to their partners' sites. For example, Dom.Ria has launched a program cobrand.ria.
Premium content
As we've said before, blogging and creating useful content for the area and community pages attracts massive organic traffic. Some of this content can be made gated – this allows you to either charge for the most valuable pieces or give it out in exchange of users' personal information if lead generation is your priority.
Wrapping up
Making your way to the top doesn't happen overnight. But to bring your brilliant idea to life, you've got to make the first step. Why not start your journey today?
How much does it cost to build a real estate website with CodeTiburon?