Updated July, 10, 2018
Just a decade back, the Real Estate industry was only contemplating digital opportunities and embarking on an online journey of website creation, mobile app development, and online marketing.
Today Real Estate in its traditional sense makes up a smaller part of Real Estate Technology landscape.
RE Technology, also known as RE Tech or PropTech, is a fast-growing industry.
Since 2012, real estate tech companies have raised over $43 billion in funding worldwide.
To give you an idea of PropTech's position on the market, see the graph surveyed by sbs.oxford.edu.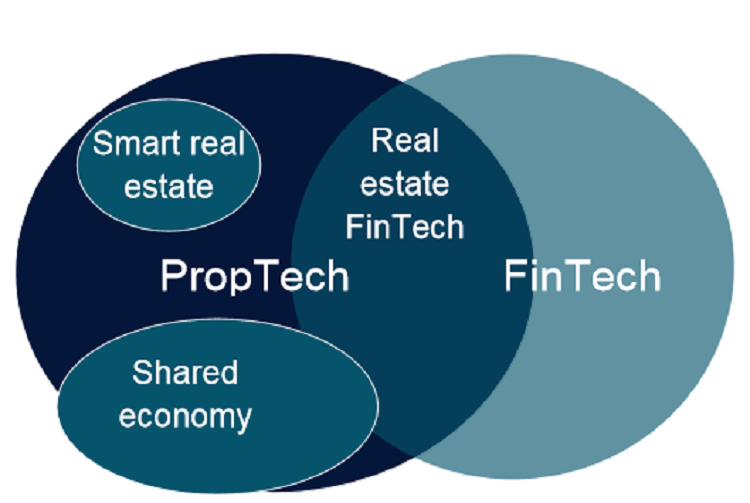 Real Estate Technology verticals (image source sbs.oxford.edu).
In this article we'll explain what PropTech is and talk about key areas and trends of today's Property Technology Industry. Use the plan below to jump to a question of your interest:
What is 'real estate technology'
The term is used to denote either 'tools' or 'companies' collectively.
In the first case, it's an umbrella term for software tools and platforms used by different participants in the real estate industry, including brokers, investors, real estate-focused lenders, property owners and managers.
In the second sense, it's an economic industry composed of companies which use technology to make real estate transactions more efficient.
Key areas of the real estate industry
So what does the real estate tech landscape look like? Though the PropTech industry is still in the making, there have been several attempts to map the emerging industry.
Here's how CBInsights categorises the market: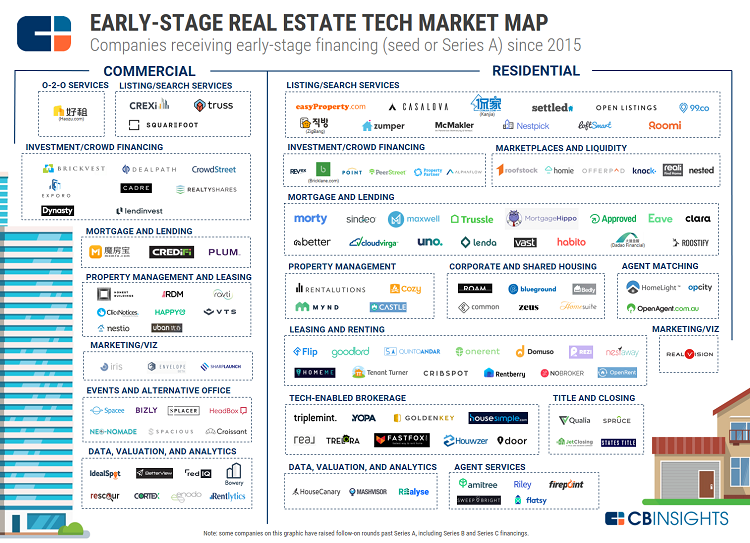 Early-stage real estate tech market map (image courtesy of CBInsights)
Two major subdivisions of PropTech are commercial and residential real estate tech companies and startups.
Commercial real estate tech includes 53 companies providing services in:
Listing and search (15)
Leasing management software (2)
Marketplaces (3)
Investment/crowdfunding (7)
Property information (4)
Data, valuation and analytics (11)
Occupier to occupier services (1)
Mortgage tech (1)
Tech-enabled brokerage (2)
Property/building management (4)
Virtual viewing (3)
Here's what a landscape for the Commercial real estate tech market looks like: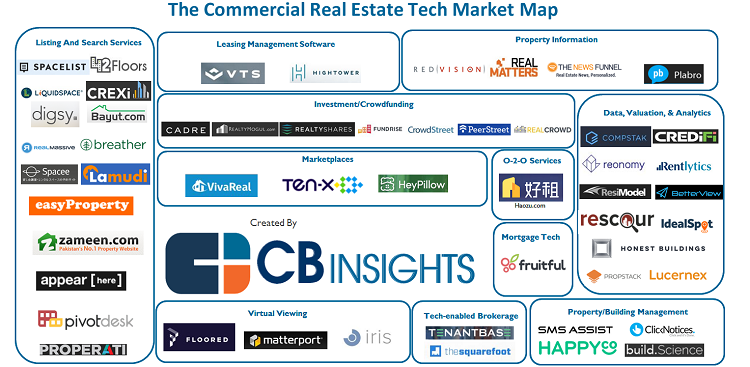 The Commercial real estate tech market map (image courtesy of CBInsights)
For residential, the categories inhabited by the 96 real estate software development companies featured are:
Listing and search services (27)
Agent matching (5)
Marketplace (9)
Broker-free list and search (3)
Investment/crowdfunding (8)
Property information (4)
Data, valuation and analytics (1)
Occupier to occupier services (3)
Mortgage tech (10)
Tech-enabled brokerage (4)
Leasing management software (2)
Property management (7)
Virtual viewing (5)
Sales and marketing (5)
Agent services (3)
See the mapping of the Residential real estate tech market below:

The Residential real estate tech market map (image courtesy of CBInsights)
According to MIPIM – a major property annual meeting held in Cannes, France – PropTech is categorized as follows:
Smart buildings/IoT (internet of things);
Smart city sustainability;
Marketplace;
Crowdfunding;
ConTech;
3D/VR (virtual reality);
Data and research analytics
The categories and the participants are mapped in the infographics below: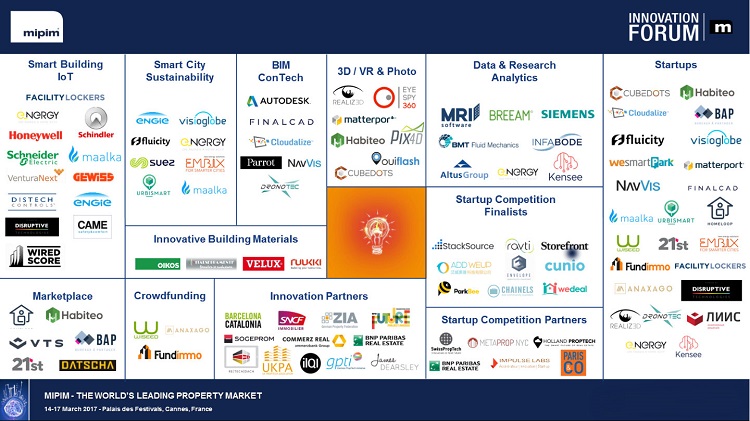 PropTech categories (image courtesy of MIPIM)
Finally, a German classification of the local market features 11 subdivisions:
Property Listings and Marketplaces
Agent Matching
Property Selling / Renting
Short-term Rentals
Brokerage Rating and Comparison
3D, AR / VR
Virtual Data Room Providers
Real Estate Crowdfunding
Smart Building IoT
PropTech Accelerator
Others
See the image of German PropTech landscape: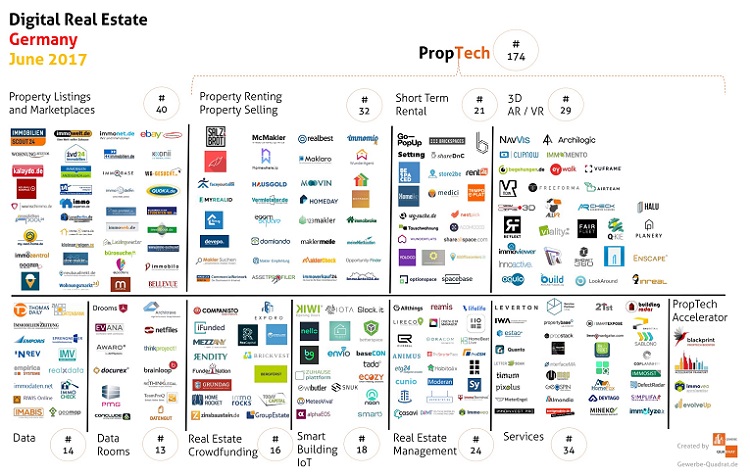 Digital Real Estate in Germany (Image courtesy of Gewerbe Quadrat)
The variety of classifications suggests that the industry is multidimensional and vibrant. Many startups are still testing their hypotheses of how to use technology in real estate.
It's trying to address burning economic issues and offer more efficient technology solutions (IoT, AR/VR, 3D, big data, AI) as well as new business models.
As the classifications indicate, 'property listings and search' is still top of interest, making the investment in real estate website development worthwhile.
That's what brought success to the early adopters like Zillow, Trulia, Realtor.com, RedFin, and StreetEasy – still unrivaled in the field. Those five know exactly how to build a real estate listings site that brings revenue.
This area of software development is in great demand, with real estate websites for lead generation, real estate sites for agents, brokers, and realtors, real estate platforms for sellers, buyers, landlords and tenants. The runner-ups and newcomers worldwide are Homesnap, IndiaProperty (both property listings providers), Estately (realtor listings), ZigBang (a rent searching app), LiquidSpace (a commercial property search app), to name a few.
More recent developments, however, are targeting other sectors as well.
What's trending in the real estate tech industry
Across the multiple solutions for various Real Estate verticals, we can't help but notice some technology trends.
Let's take a minute to ponder how these real estate technology trends may shape the future of PropTech.
Sharing economy explores new market options
Collaborative consumption is becoming mainstream.
Pioneered by companies like Airbnb, HomeAway, and Upwork, the business model adopts a motto 'space and capital goods are better shared'.
It's been successfully implemented in several industries, mainly:
Automotive. Car rentals, taxis (Uber, Lyft)
Real Estate. Residential, hospitality, retail, storage and office space (Airbnb, Booking.com, HomeAway, LiquidSpace)
Staffing. (UpWork, TaskRabbit)
But the model's potential is limitless wherever assets and commodities are shareable.
Now is the 'access economy' something serious and worthwhile or just a tribute to hipster culture introduced by Millennials?
Let's face it – it's getting increasingly expensive to buy a flat, or rent an office space.
In this state of the unaffordably expensive property, on the one hand, and its excess capacity, on the other, sharing economy model clearly provides the most efficient economic solution.
Where can the technology model be implemented in the real estate industry?
Short-term housing rental, co-living, and hospitality
A classical example here is Airbnb that was fast to grasp the 5-factor formula of success:
diverse and widely distributed sources of demand;
diverse and widely distributed sources of supply;
no dominant, efficient mechanism for bringing demand and supply together;
potential financial gains to the demand, supply, and intermediary sides;
scalability.
Shared workspace and co-working
Commercial real estate has been desperate for new technology trends ever since the start of e-commerce and recent economic recession.
Businesses have gone in pursuit of more risk-averse business models.
Optimizing working space by creating co-working environments is one option to generate cost savings:
communal use of utilities reduces bills;
you don't pay for the downtime;
no need to buy equipment like coffee machines, fridges, or photocopy machines;
there are various payment plans that suit your schedule.
But there's more to that than mere cost efficiency.
Check the video to see how tempting and economically attractive co-working space initiative can be.
There are two co-working models for real estate and technology.
In the first one, known as the Uber or Airbnb concept, the tech firm is simply an intermediary or broker of shorter term workspace. It's used by brands like LiquidSpace, PivotDesk, Flexioffices, Spacious (brokering office space in restaurants) and Breather.
In the other, the operator model, the business directly or indirectly controls the capital asset. This one is employed by WeWork, Workbar, Spaces and other businesses acting as renters (potential owners) rather than intermediaries.
'Smart home' solutions consolidate innovations
Real estate development technology won't be complete without the concept of a 'smart building'. Energy consumption and sustainability are at the core of the concept.
Smart buildings are the future of real estate technology.
There are two types of smart buildings currently in need – those that use tech platforms for efficiency and those that support large tech platforms (like the Facebook HQ in California).
Smart homes
The tech companies catering for the first type service a single property or entire cities.
IoT technology in the real estate industry made it possible to remotely control energy consumption via PC's, smartphones, and tablets.
Many of the biggest consumer technology companies are now moving into the smart home market.
Smart home ecosystems (by Apple and Google), smart home assistants (like Echo or Alexa) are just a taste of things to come.
Smart cities
The idea behind smart city development is to improve the quality of urban life via monitoring and management enhanced by IoT, communication and information technology.
There's great potential for innovation here – Internet of Things and Artificial Intelligence are just a couple of those.
Smart solutions to power 'connectivity'
Data storage centers, like AWS or the ones the other four giants have been building, require smart tech solutions to reduce the environmental impact – that's the cost of our desire to stay 'connected'.
A startup WiredScore has found an answer. It provides certified ratings of buildings based on connectivity quality, infrastructure, and readiness.
New ways of visualisation push back the limits of imagination
Yet another of the well-established real estate tech trends concerns 'reality' technologies. PropTech landscape is brimming with 'reality' startups.
Thanks to AR & VR innovations in real estate industry, real-world places transform into immersive virtual experiences.
Indoor mapping, 3D virtual tours and whatnots
Among the technology inventions in real estate are cameras that produce 3D renderings and visualization platforms that allow users to interact with floor plans.
For the past several years, Matterport has brought the look, feel and comfort of using Google Street View to the inside of listings.
The Matterport Pro Camera and Cloud Services make this possible.
Other companies that help create indoor models for the real estate industry are Floored, IrisVR, Zipmatch, and HouseLens.
Floored (now part of CBRE Group) is a software company that builds 3D data capture & visualization software for the purposes of developing, marketing, and analyzing commercial, residential, and retail real estate.
Its two main existing SaaS products are Protofit (allows users to visualize and edit floor plans in 2D and 3D and to create customized space layouts in real-time) and Luma (enables a high-quality, interactive, customized 3D 'walk-through' experience for new, unbuilt, and re-positioned spaces).
Put a comma: houses '3D-printed' not 'built'
So far we've been avoiding bringing up a topic of ConTech.
But we couldn't ignore such an innovative technology as 3D printing, nor its potential for the future of Real Estate tech industry.
In not too distant future, be sure to see this tech method conquer all areas imaginable.
Already successfully tried out for food and footwear and all the way through to organ and vehicle printing, it's a matter of months before ConTech will see its first fruit.
The size is not a hurdle. At least, not for an Italian company WASP that has built the biggest 3D printer to date – BigDelta – to address affordable housing issues in developing countries.
In a new eco-friendly village being built in Italy's Massa Lombarda municipality, WASP is planning to print adobe houses made of clay and mud.
The company's innovative method reflects a new economic model in which everything is self-made and residents need not depend on monopolistic corporations.
So the future of real estate technology looks bright in the realm of 3D construction. And more countries will be jumping to this idea.
In fact, Dubai already has plans to 3D print 25% of its buildings by 2030.
Machine learning and artificial intelligence fuel data management efficiency
Research and data management taken to the next level
Some companies bet on content marketing as a winning strategy and went on creating and aggregating great amounts of relevant expert content.
That way, they meant to beat the fierce competition of leading digital RE listings providers (especially MLS contractors in U.S.) as well as off-line realty experts.
Now, does this make a viable business model?
The benefit to the end client is obvious: cutting through informational noise and bits and pieces to deliver up-to-date data in simple and consumable format.
How do they do it?
Machine learning and AI.
Machine learning focuses on the development of computer programs that can change when exposed to new data. The process of machine learning is similar to that of data mining, as both systems search through data to look for patterns.
The companies working in that direction are Datscha, Geophy, Kensee, and Mashvisor.
Property valuations and mortgage calculators for real estate search engines are more than 'nice-to-haves'
Adequate property valuation is crucial for a deal to close.
However, it's costly as well as time-consuming if done manually.
It involves a lot of hassle – form filling by the buyer, application processing by the lender, commissioning of the valuation, setting up the inspection, preparing, writing and returning the valuation and processing the information received.
A smart valuation technology in real estate can be a game-changer.
HouseCanary proprietors claim they can develop intelligent AI algorithms which can be accurate for the vast majority of US homes (say 80%) to within a 2% error range.
The program is expected to cut the valuation period by nearly a half.
Zillow is already using Zestimate – an AI based calculator – for home valuations. It's planning to have the algorithm updated for precision.
The AI-powered engines like that are believed to boost efficiency by 40% – not bad for an elevator pitch, eh?
So it seems, AI technology in the real estate industry is a long-term player.
PropTech and FinTech alliance creates new market opportunities
Crowdfunding and equity raising platforms affordable to many
The idea of crowdfunding platforms for RE is becoming increasingly lucrative. Why?
Real estate investments have exceeded the stock market twofold recently.
To give you a 'how much' idea of the leading RE investment market (which is U.S.), residential housing is the single largest 'tangible' U.S. real estate asset, worth roughly &23 trillion, and commercial real estate accounts for another &15 trillion.
But here's a catch: Traditional real estate investment business is pretty much exclusive.
Crowdfunding seems a timely alternative.
What is and isn't real estate crowdfunding?
It's not buying property for ownership – it's investing for an interest.
It doesn't make you a sole investor, but a shareholder.
It's not necessarily an actual property, it could be just an idea (a project).
It's not real estate stock investment (REIT), either, since you handpick a project you'd like to fund directly, without intermediaries.
In a nutshell, it's like betting on some RE-focused initiative that might or might not turn out to be a success.
Compared with traditional RE investing, the entrance threshold is much lower – great news for less financially capable buyers. It also removes geographical barriers.
However, it comes with legal, accountability, and recourse risks.
Among the top crowdfunding and equity raising platforms are RealtyMogul, RealtyShares, PeerStreet, LendingHome, RealCrowd.
The platforms make use of two popular business models – networking and sharing economy.
Other PropTech & FinTech common paths
The other directions of this cooperation are:
Debt and mortgage tech platforms. Companies like Credit Sesame, Envestnet/Yodlee, Equifax focus on technical facilitation of the process but do not lend or service the loan. Whereas Better Mortgage, Guaranteed Rate, LendingHome both facilitate the mortgage application process and service the loan.
Commercial property leasing and portfolio management. Leasing and portfolio management are the most pressing issues driving cash flow and return. The companies involved in optimizing the processes (VTS, Leverton) use the machine and deep learning to automate the leasing management. Some nascent commercial real estate technology trends like blockchain are expected to play a key role in transforming this market segment.
Disposal and secondary market exchanges. The WeBuyAny Car.com model is being applied here to create what is intended to be a secondary market platform for homes. The newcomers to the market are a U.S.-based startup Opendoor and its UK equivalent Nested. We are yet to see how viable their business model can be.
The future of real estate is in your hands
Real estate and technology have a versatile relationship. The industry leaders (Zillow, Trulia, Airbnb) grow sideways, which is understandable. Laying all eggs in one basket has never been riskier.
As a startup, you will want to focus on one area and gradually test your idea of new technology to fuel the industry. Check some insights on starting up in PropTech in the post below.
How to Build a Real Estate WebSite with Listing: Tips and Shortcuts.
Already have a business plan and want to implement it? Give us a call and discuss the tech implementation of your idea.
Useful Resources:
https://www.cbinsights.com/blog/residential-real-estate-tech-market-map-company-list/
https://www.cbinsights.com/blog/commercial-real-estate-tech-market-map-company-list/
https://www.cbinsights.com/blog/real-estate-tech-startup-deals/