Digitization in HR has created new challenges. One of those is a multitude of data and no clear ways to utilise it.
Data is a treasure trove in supply chain, marketing and sales, finance, and other areas relying on business intelligence for decision making. So setting up a data driven recruitment process can be equally valuable, especially now that digital transformation in recruitment is no longer just a nice-to-have.
Whether you are hiring the old way, changing gears, or in the thick of HR automatization and social media recruitment, you may have heard about a data-driven approach to hiring as a remedy to bad hires, long cycles, and huge budgets.
In this article, we will tell you about the benefits of data-driven recruitment and how to set up the process efficiently.
What is data-driven recruitment
Your enterprise IT systems (HRIS, ATS, RMA, etc.) produce a well of data. Over the time, you've accrued candidate, employee, and customer profiles, company information, job specs, interview recordings, hiring decisions, salary information, operational data and more. Data driven recruiting process uses the candidate-to-employee lifecycle data for making better hiring decisions.
However, the problem is the data is poorly structured and siloed.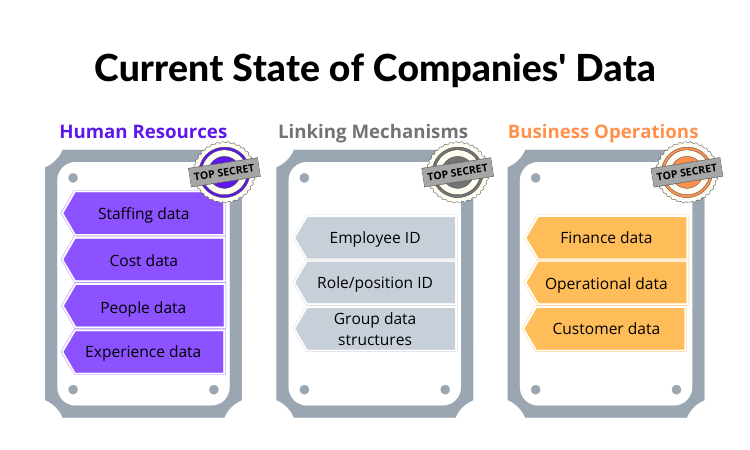 In this state it won't give you the answers to:
How successful your last hire was;
Which channels bring top quality talent;
What the overall improvement in time-to-fill over the past year is, etc.
Data driven recruitment goes beyond data accrual and past organizational silos. It employs data science towards greater forecasting capacity.
The role of data science in data-driven hiring
At the heart of data-driven recruitment is data science, which involves a wide range of scientific methods, algorithms, and processes to extract knowledge from structured and unstructured data. Data scientists engage in A/B testing, analytics, business intelligence, as well as extracting, transforming, and loading data from one system to another (aka ETL). Experimentation, exploratory analysis, machine learning, and metrics are also parts of the process.
The beauty of data science lies in its ability to uncover patterns evading the human eye.
How hiring teams can leverage data-driven recruitment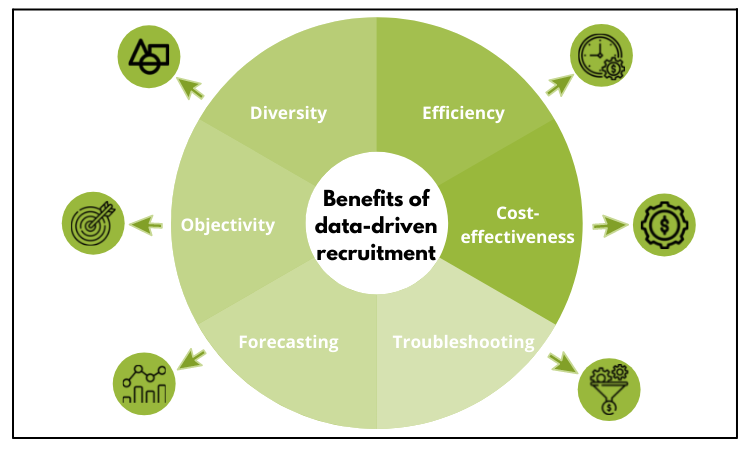 Better quality of hire is number one among the multiple benefits of data-driven recruitment. But data-driven hiring also helps:
Diversify the hires. Without recruiting analytics, diversity tracking is hard. Analytics help to continuously monitor your hiring funnel for important demographic ratios such as gender, ethnicity, and veteran status.
Boost efficiency. Track specific points to see what can be adjusted, like the number of emails your recruiters exchange with candidates in a day.
Distribute hiring funds. Sometimes you may need to use funds more efficiently. For example, nor all channels bring you quality hires. Data helps you make adjustments and put your money to good use.
Uncover challenges. Data will show weak spots in your hiring funnel. For example, does your application form convert well? Increase conversion rates by updating questions or tweaking your careers page design.
Benchmark and predict the hiring outcomes. Take recruiting yield ratios, which measure movements between each stage, and forecast the number of candidates you need to make a hire. Why not increase the number via candidate sourcing?
Make more objective and legitimate decisions. Whether it is a candidate feedback, referral program, or a case for recruiting improvement within your company, drawing from data is part of professionalism and efficiency. After all, intuition alone can hardly beat data-driven hiring decisions.
Data-driven recruiting and HR analytics have a significant impact on hiring. But only clean data and accurate metrics can yield correct insights. So let's next focus on the metrics.
What kind of recruitment data you should measure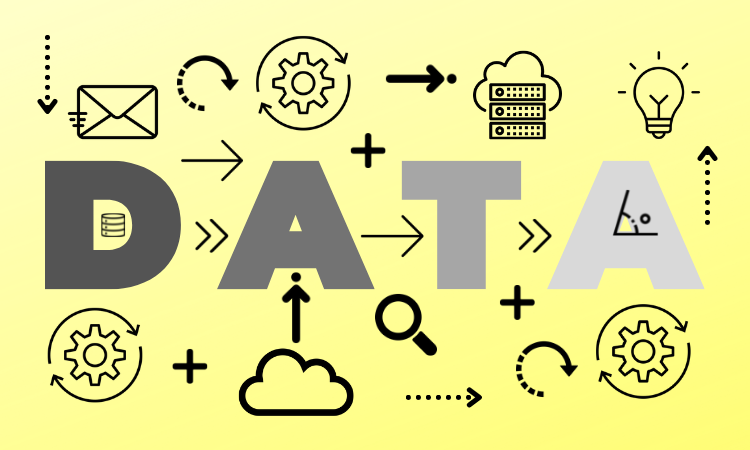 Data-driven recruiting and HR analytics require the right metrics to yield good results. Make your challenges and goals guide you in the choice of metrics. Ask yourself:
Do I need multiple job board subscriptions?
Can we close vacancies sooner?
How can I attract the best talent?
Why do we have a high drop-off rate after accepting offers?
The data will give you clues on:
Candidate-to-employee conversion rates;
Candidate pipeline speed;
Hiring stage conversion rates.
As a manager, you're familiar with a good-fast-cheap triangle and the dilemma to choose only two. Workflow optimization lies along the identical vectors – speed, quality, and cost. Assess your current situation by the three categories of metrics:
Speed-based recruitment metrics: time to hire (accept / start / inform / disqualify / approve / per stage, etc.).
Quality-based recruitment metrics: submission to acceptance rate, source of hire, applications per job, candidates per hire, retention, offer to acceptance, application completion, hires per channel, contact rate, candidate experience, team performance.
Cost-based recruitment metrics: cost per hire, applications per channel, talent pool growth.
Additionally, you may track social metrics: advertisement performance and brand engagement.
How to implement data-driven recruitment into your workflow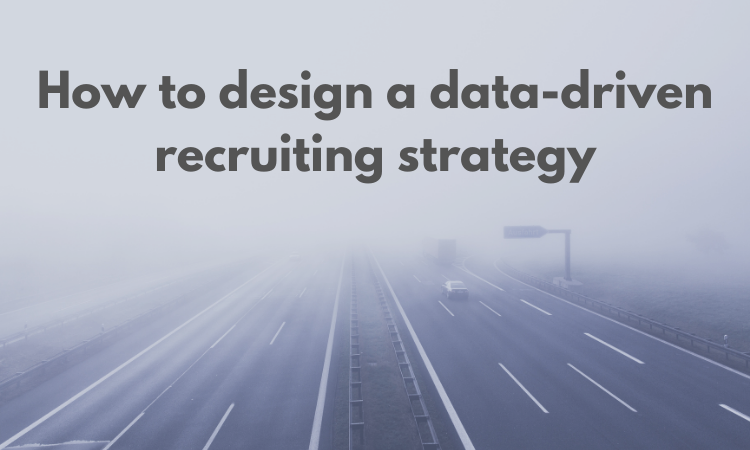 Here is how to set up a data driven recruiting process.
Set up processes for consistent input
Start with a 'what'. What would you like to know? What are your bottlenecks? Identify important data points. Then capture them.
One of the key things is the right input. Whether you use recruitment software or do it manually, unified effort is crucial. Conduct an audit on how the current system is being used and integrated. Get feedback from different stakeholders and decide on a specific data aggregation strategy that everyone would stick to. Consistent logging of all recruitment processes would mean accurate fact capture.
Build recruitment metrics
Recruitment metrics will help measure processes and identify bottlenecks. Build a scoring system like in customer relationship management systems, where users get points for desirable actions. We can apply the same for candidate tracking to see who is serious about your company: career page, social handles, etc.
Act upon your statistics effectively
Collecting information is half the work. Now you build a data-driven recruiting strategy. Here are some possible issues and how to fix them.
Long recruiting cycles
If hiring takes longer than your industry average, the reasons may lie in these areas:
Sourcing. A more diversified strategy will help. Consider including social hiring or try a sourcing tool to ensure a constant flow of candidates.
Screening. Too large a pool of candidates can be another time-eater. It helps to include some qualifying questions into your job application to only include quality talent that answers your key requirements.
Interview. Juggling multiple tools and calendars hinders interview scheduling. Invest in a recruitment management system with multiple communication channels to spare the effort.
Last-minute dropouts
Emotions aside, getting job offer rejections from the candidates you invested time into means money wasted and position unfilled. A few adjustments you need here:
Measure job interest early on. Understanding the motivation right away helps a lot. Whether your candidates do interviews just for the sake of practice, weigh multiple opportunities, or aspire to work for a different company, it would be good to know.
More competitive job offers. A clear, concise, and compelling copy will do the jobs. Research what benefits may entice your best talent and act on it.
Work on candidate experience. A smooth candidate journey increases your chances of success.
High new hire turnover
Communicate all details clearly. It's crucial that candidates understand the job duties, requirements and team and individual performance expectations, well before they receive your job offer.
Ensure smooth onboarding. Your new hires deserve to feel welcome, receive appropriate training and be given a chance to do meaningful work right off.
Know the limitations
Don't expect data to give you reasons. It's only half the story and stops at giving you insights. Only you can connect the dots.
Stats won't solve problems for you. How you act upon the facts is totally up to you. Channel your optimization efforts well.
Information is only as good as it is accurate. Do not expect 100% accuracy. Human interference distorts the facts.
Conclusion
Taking a data-driven approach to hiring helps immensely. On top of reducing talent acquisition costs and bringing better quality hires, it speeds up the recruiting process, aids in bottleneck detection, diversity and objectivity of hiring. And you can finally prove the effectiveness and ROI of your recruiting software investments.
Data aggregation, trend identification, visualization and predictive analytics are now standard parts of most recruiting software. If yours is still lacking any of these, it's a reason good enough to start a conversation with us.
How much does it cost to build a recruitment application with CodeTiburon?