Most businesses can't decide when getting an applicant tracking system is unavoidable. But in fact, if any of these ring true, the time is ripe:
your business is growing;
you have a high rate of employee turnover;
you continue hiring during pandemics and social distancing;
you've exhausted your HR staff (or you don't have enough HR staff);
you are having trouble tracking and reporting HR and legal compliance.
In this article, we'll share our experience of building applicant tracking software and give general guidance on the topic.
What is an ATS?
An applicant tracking system (ATS) is software that automates recruiting and staffing operations and provides a core repository for candidate data. An ATS optimizes every stage in the hiring process and reduces the time-to-fill.
How does an applicant tracking system work?
Applicant tracking software helps businesses to handle the recruitment process electronically. It streamlines the entire staffing process via a defined workflow, which in its essence follows a familiar algorithm: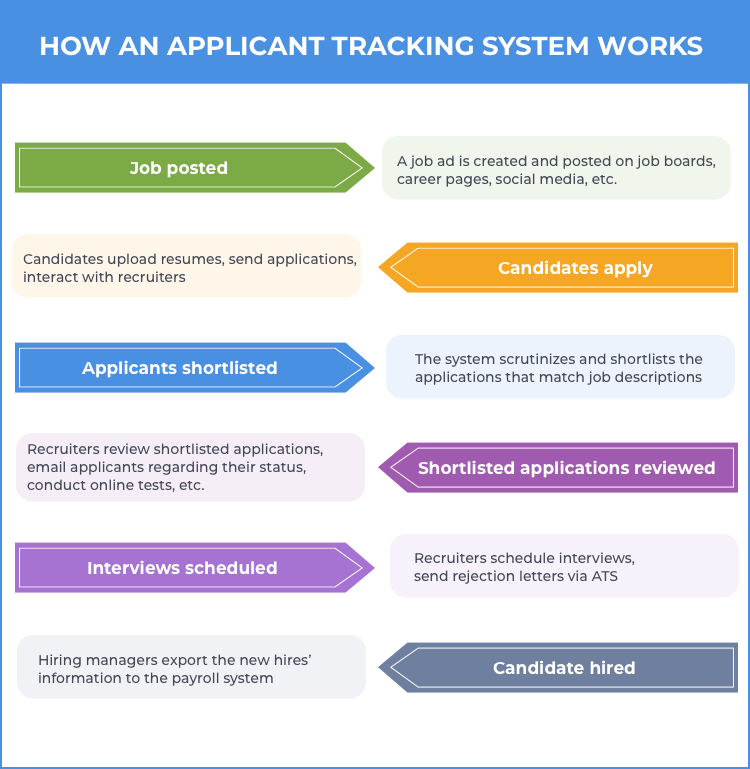 An ATS collects and stores resumes in a database for hiring professionals to access and manage. The applicant data are pulled from the internal (company website) or external (job boards) sources. Newer applicant tracking systems are SaaS platforms with omnichannel talent acquisition capabilities.
Next, it simplifies the recruiting process by automation and intelligent vetting and screening for the best fits.
Finally, it tracks candidates' activity and automates the workflow of the entire recruiting process.
Why ATS?
Top employers have to manage tons of resumes on a regular basis. But even SMEs find it hard digging through the current surge of applications to secure the best talent.
In essence, an ATS helps:
All in all, an applicant tracking system excels in the tasks recruiters love to hate:
Sourcing the right candidates. ATSs distribute job openings in multiple locations; generate detailed job listings for the best fit; provide a list of 'knockout' questions.
Mimicking the human thought process. The system employs specifically designed AI to parse resumes.
Storing resumes for review. The paperless workflow creates space and efficiency.
Scanning and sorting applications based on qualifications. Parsing algorithms are designed to embrace the unique style of resumes and elicit the relevant information.
Crawling resumes for specific keywords. Job titles and skill summaries are scanned for specific keywords from a particular field.
Tracking and selecting candidates for interviews. ATSs track short-listed candidates throughout the interview stages. Database stores all candidates' data in case of a new job opportunity.
That's why businesses of all sizes reap the benefits of buying or creating an applicant tracking system.
(to be continued)