Most businesses can't decide when getting an applicant tracking system is unavoidable. But in fact, if any of these ring true, the time is ripe:

In this article, we'll share our experience of building applicant tracking software and give general guidance on the topic.
What is an ATS?
An applicant tracking system (ATS) is software that automates recruiting and staffing operations and provides a core repository for candidate data. An ATS optimizes every stage in the hiring process and reduces the time-to-fill.
How does an applicant tracking system work?
Applicant tracking software helps businesses to handle the recruitment process electronically. It streamlines the entire staffing process via a defined workflow, which, in essence, follows a familiar algorithm: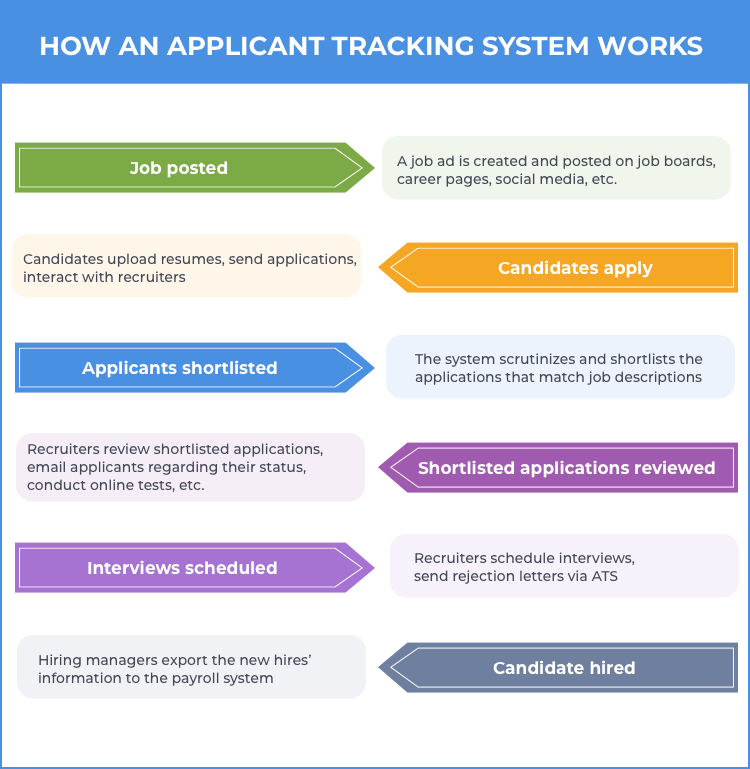 An ATS collects and stores resumes in a database for hiring professionals to access and manage. The applicant data are pulled from the internal (company website) or external (job boards) sources. Newer applicant tracking systems are SaaS platforms with omnichannel talent acquisition capabilities.
Next, it simplifies the recruiting process by automation and intelligent vetting and screening for the best fits.
Finally, it tracks candidates' activity and automates the workflow of the entire recruiting process.
Why ATS?
Top employers have to manage tons of resumes on a regular basis. But even SMEs find it hard digging through the current surge of applications to secure the best talent.
In essence, an ATS helps:
All in all, an applicant tracking system excels in the tasks recruiters love to hate:
Sourcing the right candidates. ATSs distribute job openings in multiple locations; generate detailed job listings for the best fit; provide a list of 'knockout' questions.
Mimicking the human thought process. The system employs specifically designed AI to parse resumes.
Storing resumes for review. The paperless workflow creates space and efficiency.
Scanning and sorting applications based on qualifications. Parsing algorithms are designed to embrace the unique style of resumes and elicit the relevant information.
Crawling resumes for specific keywords. Job titles and skill summaries are scanned for specific keywords from a particular field.
Tracking and selecting candidates for interviews. ATSs track short-listed candidates throughout the interview stages. Database stores all candidates' data in case of a new job opportunity.
That's why businesses of all sizes reap the benefits of buying or creating an applicant tracking system.
Applicant tracking system benefits
According to a report, 94% of recruiters using ATS have seen improvement. Here are some benefits that come with building an applicant tracking system.
Improved time-to-hire
The system optimizes the workflow, automates repetition, eliminates paperwork, improves communication. Resume screening is still the most time-consuming part of recruiting: 75%-88% of resumes don't qualify for an opening. Smart screening optimizes recruiters' effort. Applicant tracking software shines where the time-to-fill is crucial.
Reduced cost-per-hire
With an ATS, only the top 25% of resumes reach recruiters, allowing for more added value. An average monthly cost of a recruiter is $2000-$3000. An ATS is $100-$150 a month per user. Weigh the 5% cost increase over your recruiter's sourcing efficiency multiplied. Do you still think creating an applicant tracking system is a losing proposition?
Streamlined recruiting process
A poorly designed recruitment process can miss attractive candidates—including passive seekers. An ATS helps find, engage, and hire the best talent. When you can craft the right message, use smart sourcing tools, and easily access all the details in one location, hiring becomes a breeze.
In a Kanban-style layout of an ATS, it's easy to switch between candidates and notify the applicants of the next stage by moving a card. No risk of losing a resume, bypassing someone, or including them twice. No more spreadsheets. Take collective data-driven decisions and proceed smoothly through the hiring funnel.
Better quality of hire
Timing is crucial. Research states, top candidates stay available for 10 days on average. So the winner has to be nimble. With a current surge of the workforce, finding the best fit is even trickier. Another research has shown that 80% of recruiters see quality improvement as a result of using the system.
Verified legal compliance
An ATS keeps human resources professionals compliant with relevant laws and regulations to ensure fair hiring. It also stores information on applicants' performance and provides reasons for not hiring someone in case of a lawsuit.
Data-driven decisions
Hiring managers know the cost of bad hires. Yet manual data handling is unreliable due to its shortage or abundance to support important metrics. So recruiting outcomes may be blurred. An ATS, on the other hand, uses analytics to bring valuable business insights. What's left is to adjust your strategy.
Should I buy or build an applicant tracking system?
It's tempting to avoid the unknowns of building your own applicant tracking system by getting an off-the-shelf solution. Next, you wonder, 'Why is this button here, anyway?' According to the SMB Applicant Tracking System Buyers' Report 2020, nearly 60% of organizations have an ATS in place today, and yet nearly 50% of companies are dissatisfied with their primary ATS and are looking to change providers.
Despite the variety of solutions on the market, the demand for custom ATS options remains stable. So before I tell you how to build an applicant tracking system, let's weigh the pros and cons of both sides.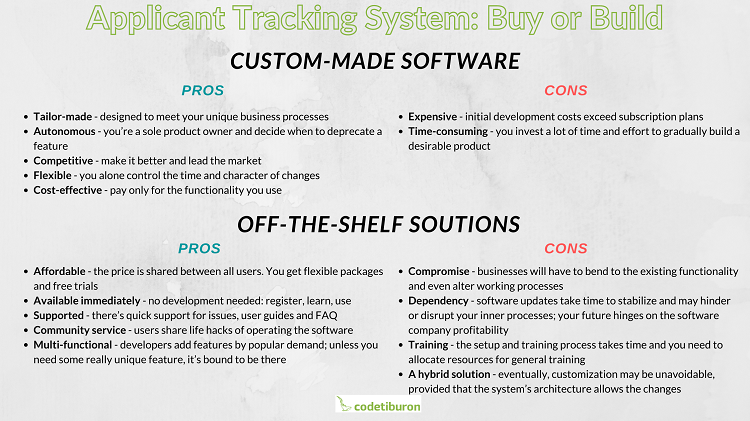 Best applicant tracking systems in 2020
For those looking at how to create an applicant tracking system, it's good to explore the existing free and paid solutions.
The systems range from free to multiple-thousand-dollar-per-month depending on the software pricing model and the number of users. Some ATS tools can automate the most time-consuming tasks for free. For more advanced features (video interviewing, calendar integration, automated scheduling), prices start from around $60 per month and go up based on a feature set or the number of open positions.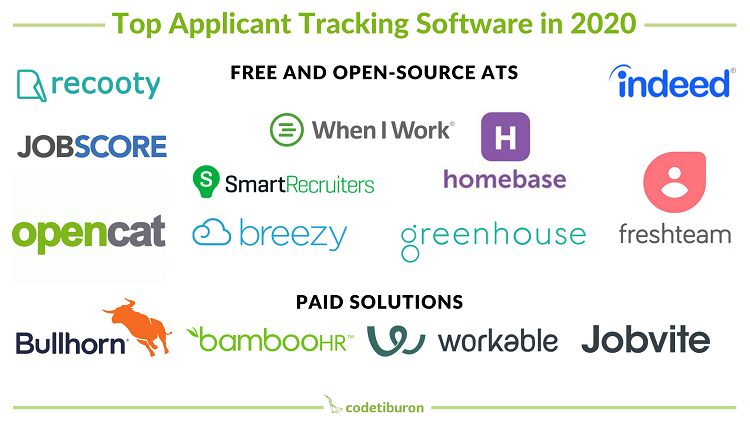 Free and open-source
With these tools, you get free plans for basic functionality (job posting, candidate tracking) or free trials for a wider range of features.
Open-source applicant tracking software has its source code provided to the user so that the product can be developed manually. It doesn't have the plug-and-play attractiveness of commercial software. Nor can you build an applicant tracking system of your dream with it. But if there are skilled developers available, the code may be altered to better suit your needs.
| ATS | Best for |
| --- | --- |
| Freshteam | (Best overall) Any business with fewer than 50 employees posting to multiple job boards |
| OpenCATS | Tech firms that prefer open source software for customization and systems integration |
| Indeed | Startups wanting to post jobs and track applicants free on the top job board |
| JobScore | Regulated industries wanting to do background checks from within their ATS software |
| Homebase | Restaurants and retailers looking for a free and easy way to find hourly workers |
| Smartrecruiters | Fast-growing firms (with professional recruiters) planning to upgrade talent acquisition features in the future |
| When I Work | Field-based companies with under 75 workers |
| Recooty | Best known for its simplicity & efficiency. Has affordable pricing, also the basic plan is absolutely free |
| Greenhouse | It's an ultimate and complete HR administration system. No free option, but there's an open SaaS platform that uses an API to facilitate the resume aggregation |
| BreezyHR | Dubbed 'Trello for hiring teams', it works best for SMB. The free plan comes with one active position, one active candidate pool, resume parsing, a branded careers site, interview self-scheduling, GDPR compliance and automation. A good option for a tiny business with minimal or infrequent hiring needs and no recruiting budget |
Paid and proprietary tools
All of the above tools have more attractive paid packages. Some of the systems don't open their code for modification. Let's look at the top paid tools on the market.
ATS

Description

Best features

Workable
Desktop, mobile. Easy access to candidate profiles, team communications, interview schedules, scorecards

Data protection with access rights for the hiring team
Easy reporting lines with role assignment, job creation, and posting
Confidentiality control
Productivity and activity reports regularly generated for the hiring team
Posting on multiple job boards with a single click
Easy scheduling with email-calendar synchronization

Jobvite
Cloud-based, candidate-focused. Social recruiting, mobile-optimized career sites creation, onboarding functions. Mobile app. Tools for interviews, requisitions, employee referrals. Best for medium and large-size companies

Easy employee referrals
Automatic screening and interview-based candidate ranking
Mobile-friendly application processes for candidates
Smart Scheduler feature, which looks at the schedules for multiple interviewers and picks the best time to schedule a new interview
Single record maintained for all conversations with a specific candidate across channels
Powerful search tool to look for candidates by name, keywords, workflow, location, or date of application

Bullhorn
Cloud-based. Best for staffing and recruitment. Mobile friendly. Immediate data entry after candidate interaction

Easy access and management of candidate data
Allows the addition of notes to records
Easy tracking of all email interaction with any specific candidate
Real-time updating of records
Viable reporting and management options for the recruiting team's progress
In-system access to LinkedIn records

Bamboo HR
All-in-one. Mobile app. Tools for onboarding, e-signatures, attendance tracking, performance management

User-friendly and easy to learn
Streamlined processes for candidates to follow and easy onboarding
Customizable email templates and message scheduling to multiple candidates
Integration with job-boards and social media
Reporting capabilities
Essential feature list for your applicant tracking system
Your business complexity will determine the software functionality. Oftentimes SaaS subscription entails paying for the features you will never use. Therefore, you may start creating an applicant tracking system with a strict feature list prioritization.
Below is a list of the most essential aspects.
Integrations
Sometimes you can't build your own applicant tracking system without 3rd-party integrations. What external sources do you pull data from, or share content with, or use as tools? What reputable sites do you use for background checks? What workflow management tools do your employees work with? Are you planning to use messengers or e-learning apps from the App Store or Google Play? What social media platforms do you market on? While building an applicant tracking system, consider the following integrations:
Social sharing
Job boards
Training programs
Careers pages
CRM integration
Analytics
Measuring your recruitment effort is vital to success. All the steps of your hiring funnel have to be visible. You can plan better by knowing the cost and time per hire, time to fill a position, the number of qualified prospects for a position, and the number of interviews per hire.
But tracking isn't all. Applicant tracking software should provide you with business insights and optimal solutions. Being able to customize the requirements to your business needs is a bonus. Custom reports and visualization is another.
Here are some ideas for analytics:
Time to fill
Time to hire
Candidate sorting
Resume storage
Chrome extensions
Candidate experience
Job hunting is stressful enough as it is. You don't want to deter the best talent by a lengthy and cumbersome application process. The least you can do is reduce the steps and keep it under 10 minutes.
Another thing candidates will appreciate is improved communication in the form of timely feedback. Better still, allow the applicants to track their status and get automated updates whenever it changes.
Some ATS's let applicants self-schedule their interviews by showing available time slots in the calendar. All in all, any features adding flexibility and convenience are welcome:
Intuitive interface
Messaging
Personal note-taking
Online applications
Interview scheduling
Status updates
Automation & customization
The degree of automation and customization depends on business needs. Sometimes toggling between automated and manual modes is required to meet hiring goals. One of the pitfalls of modern ATS's is missing out on perfectly reliable candidates and people with unique experience and skills only because their resumes don't fit in with the set requirements. Some features in this category are:
Customizable job descriptions
Automated correspondence
Continuous candidate tracking
Customizable reports
Adjustable search engine
Performance
If you're casting worldwide nets to catch the best talent, you need a working site 24/7. Discuss the amount of customer support with your vendor well in advance to avoid surprises. When is the best time for fixes and upgrades?
Another important decision is mobile apps. Do you want your applicants to find and contact you on mobile? Will your employers work remotely and interact on-the-go? That makes two apps with unique interfaces and functionality. Consider these:
24/7 support
Installation & setup
Mobile recruiting
Mobile apply
Security
Protecting user data and sufficient system uptime is especially important if you use 3-rd party APIs. On-premise software does not depend on outer connectivity to the same extent. So if the internet is flaky, it's a better option. Still, some amount of customer support should be agreed on. Make sure your SLA contains clear security guarantees.
Data encryption & protection
User access levels сontrol
Electronic signatures
Identity verification
How to build an applicant tracking system: our experience
Challenges
Our client, a B2B and B2C temporary worker market facilitator, was generally unprepared for the active growth, with legacy software and a number of typical challenges:
Recruiting agencies have standalone systems with isolated databases. They need integration to change the dynamics and increase value.
The existing databases are incomplete, outdated, and devoid of validation.
Data aggregation is hindered by slow outer systems' performance.
Every database requires a unique search algorithm incompatible with another.
Traceability and visibility of changes are crucial with the multiple sources of data input.
Lean plan
Data import optimization
Data mapping
Power search algorithm
UX enhancements
Performance improvements
Achievements
Data import
We've developed a solution to aggregate the data from disparate sources, support its uniqueness, and synchronize the regular 2-way updates. Due to the slow data transfer from the external sources, we created additional background services for intermediary storage. Thus we were able to toggle between the real system and the mirror in the development process.
Data mapping
The database had to be cleaned, updated, and indexed for further search. We created templates for data clusterization.
Power search algorithm
The core value of the system lies in a smart semantic search algorithm. Users match orders (missions) and contacts based on set-up parameters or manually pick the matching criteria from the list. As a result, the power search gives the most relevant results from massive volumes of data, without overstressing the system's performance or overlooking valuable assets.
UX enhancements
UX asked for serious improvements. We had to find a simple and efficient way to present the abundance of information in its dynamics. A kanban style was used to visualize the stages of contact movement through the hiring funnel. Dashboards and icons helped to render real-time change indication for prompt decisions. Multichannel data manipulation (mobile app, extranet, backend administration) required traceability throughout the entire process.
Performance improvements
System efficiency consists of adjustments and smart solutions on multiple levels:
The power search optimization presupposes working out the right matching criteria and their ratios.
Data aggregation and synchronization require optimal steps. Independent load testing helped enhance the system's performance.
Introducing microservices lets automatically increase the capability by adding nodes on demand.
Potential
The system has the potential to develop in various directions, based on business specifics. Here are just a couple of functions to look for:
Analytics. A large pool of historic data is a treasure trove for business intelligence solutions. So far the reporting has been done manually. But automation is the next step.
Sourcing. Applicant sourcing is a task every recruiter loves to hate. Our system's API allows 3rd-party integration with job boards, company websites, and other external tools.
Final thoughts
Applicant tracking systems have set a higher standard in hiring. They've come a long way from background checks and screening to delivering the best talent fast and improving the candidate experience. It's no longer a question of whether or not to have one, but how to find the best fit. There is no universal way to optimize recruitment efforts. Do you want to tap into a larger talent pool or outsource yours, take advantage of smart tools or centralize your processes, stick with tradition or breathe in innovation? There is no shortage of choice. Choose wisely.
How much does it cost to build applicant tracking software with CodeTiburon?