MyAssets: Portfolio Organizer for Individuals, Groups, and Businesses
How to Regain Control of Your Assets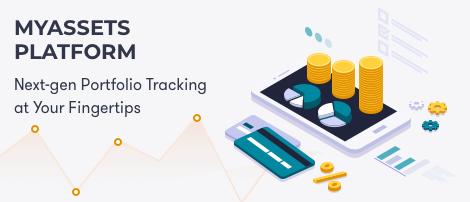 Analytics
Visualization
Business intelligence
Atomic UX design
Lean and easily scalable architecture
Multiple asset categories in one app
What is MyAssets
MyAssets Platform is an innovative, analogue-free fully integrated one-stop asset management solution. Designed for the needs of high net worth individuals (HNWI), the platform is a one-stop asset management solution for anyone looking to get rid of multiple single-class asset trackers, or get started on a path of portfolio management, or gain more clarity and transparency of their financial situation, or simply remember where their cherished collectables are located.
Client
Our Hong Kong-based client is a Family Office managing a portfolio of investments that commenced with early stage tech and financial services sector investments in 1999. Over time it has advised on numerous transactions and also participated as a direct investor in several opportunities.
PROBLEM: Too many single-class asset trackers, not much order
Portfolio management gets increasingly challenging as your portfolio diversifies and grows. The market is full of single-class asset trackers, which turn portfolio management into an ordeal. By juggling too many apps, you lose track of the big picture.
SOLUTION: One-stop asset management solution for any unique portfolio
Contrary to the existing asset trackers that strictly isolate one class of assets from another, MyAssets Platform keeps integrity of the entire unique wealth and allows to categorize the assets in ways convenient to their owner.
MyAssets Platform makes tracking various assets a breese, no matter how unique, diverse, or distributed in space. So you know your entire net worth at any given moment.
Challenges
Every project has them. A few particularly demanding tasks concerned different areas:
System integrity: creating an asset tracking solution where the asset classes are not siloed and each asset has a distinct physical location or other classifier that allows for flexibility of grouping.
Document vault: a secure private space to keep all asset-related documents and files online and accessible at all times.
Worldwide artist database: enabling autosuggestions for over 300,000 visual artists' names for the reasons of economy and consistency.
An easy transition: from an existing solution (excel file, other asset tracking tool) to MyAssets.
Features
Without going into too much detail, let's highlight several features.
Asset management
A user can create, view, and manage assets in one of these categories:
My Finance – shows dashboards for cash & banking, private investments, financial investments, etc.
My Property – contains the details of owned, rented, and 3rd-party real estate, its location, acquisition and other details, ownership and beneficiaries.
My Collectables – among others, includes a summary page consolidates all user collections data in one page.
My Belongings – includes a dashboard, list pages, catalogs, details, purchase & delivery capabilities, assistant, etc.
An asset creation equals acquisition when the actual transaction takes place. An asset is then shown on a global dashboard and its valuation becomes trackable. You can add ownership, beneficiaries to every asset and track expenses and income. It's possible to add loan liabilities to every asset and calculate repayments.
Asset interconnectedness
The categories of assets are not siloed. Every category is a portal into your entire, undivided net worth. For example, you can view the location of your collectables and belongings inside your properties. No other asset management app provides the same depth of integrity.
Document vault is a place to store all your files, regardless of the asset category. And you can group assets in a way that only makes sense to you – whether it be a particular location or shared ownership or other.
The platform has to serve the needs of businesses and individuals alike and be flexible enough to bring value to a wide range of users worldwide.
Document vault
MyAssets Platform provides its users with an online file storage. It's an app in its own right, a full-fledged service akin to Dropbox, Google docs, or ICloud. Our system has almost the identical functionality that allows users to upload and download files, modify, delete, filter, search and access them from various devices.
An outstanding feature of our document vault is that it associates documents with assets. Accessing the documents from a corresponding category of assets is easy and a big bonus when it comes to getting a mortgage or a loan, notarising a copy, selling a piece of art, etc.
Double-entry ledger
An industry standard for financial transactions, a two-sided accounting entry always affects at least two accounts, always includes at least one debit and one credit, and always has total debits and total credits that are equal. This approach improves the system performance and tracking and complies with banking tools and APIs that feed and take the user data.
Global wine catalogue
This feature is essential. It's a wine listing system that provides wine collectors with useful information on prices, rates, descriptions, varietals. All you do is fill out a unique value and the system populates the other fields, making wine inventory a breese. Where MyAssets shines is the location feature allowing to tie your collections to their physical location in one of your listed properties. No other system does it to-date.
Open-bank API integration
To allow getting current financial asset valuations by dynamically getting the data.
Financials
The app provides cash flow analysis and financial summary based on user assets and cash accounts.
How We Did It
Step 1. NEEDS & PROBLEMS ANALYSIS
Analogue-free products require a great deal of research. We started with a market analysis and studied the use cases available within the partial competition. Another layer involved a thorough analysis of the API market for possible integrations. Next, we did immersive sessions with external stakeholders to discover the business value and gather the assumptions for the Minimum Viable Product (MVP).
Step 2. UI/UX & SYSTEM DESIGN
Designing a system from scratch is fairly demanding. We chose the atomic design methodology to create and maintain our own design system. The concept eliminates waste in the form of mismatched elements and multiple variations of buttons, input fields, and labels. Just like the atoms of a molecule, the app elements are uniform throughout the application. This lean methodology ensures fast and issue-free scalability.
Step 3. PROTOTYPING
Prototyping allows grasping the look and feel of an application before it's built. Certain concepts need testing prior to the implementation. We developed a clickable prototype, to test information architecture, UX, and gather last-minute change requests.
Step 4. IMPLEMENTATION
Now that we determined the project scope, prioritised the functionality, and tested the look and feel, we went on to develop and test the product in two-week sprints, agile style.
Step 5. CONTINUAL IMPROVEMENT
We've constantly streamlined our work flow via the lean approach known as continuous improvement. By iterative 'build – measure – learn – repeat' loops, we achieve incremental improvements of efficiency and waste reduction.
Results
The lite version of MyAssets gives an account of a user's net wealth at a macro and micro level. There's a bright prospect of the app's value extension. The wealth management application is a good investment for investors themselves and everyone who wants to keep assets' analytics and insights at their fingertips.
Screenshots
Other projects