Your product is past the chasm and the business is running at full throttle. You might need to explore new areas, only your team already has more than enough on their plate. And you feel like they are lacking some expertise, too.
Not to miss out on the opportunity of a new project, you set out in search of specialists, only to discover that the local talent pool is scarce and everyone else is looking for the same professionals. A handful of the candidates available don't seem like a perfect fit and ask for prohibitive remunerations. Besides, you need to start fast and stay flexible. And you can't be certain that your all-star team won't swarm away one day. The attrition rate is the highest in tech, you know.
A fellow startupper advised outsourcing to Eastern Europe. He has a couple of dedicated teams as a backup in Ukraine, which comes four times cheaper than his on-site team.
Now you consider your options:
In this article we will look at the benefits of hiring a dedicated team in software development outsourcing.
How a dedicated software development company works
A dedicated team model is a cost-effective way of software development outsourcing suitable for large and long-term projects with a constant workload. When you hire a dedicated software development team, you remotely hand-pick seasoned technical experts who understand your product and company values. Dedicated development teams provide their services on a long-term basis. With a dedicated development team, you get their full-time commitment and stay in control of the entire process.
Hiring freelancers is a test of luck as it doesn't guarantee the quality or a long-standing relationship. Applying to HR agencies is pricey and doesn't cover all the needs like tools, hardware, office space, legal matters. A dedicated team model of IT companies is a Goldilock zone of expertise, gelled teams and capabilities available.
The advantages of a dedicated development team
There are many reasons why a dedicated business model is a winning strategy and off-shore software development teams can change the game.
Expertise

The primary drivers of hiring remote teams are global expansion and unlimited access to the best talent worldwide. Talent acquisition can be a problem due to the scarcity of a local pool. By hiring an outsourcing team of developers, you get the necessary experts without investing in training and onboarding new employees. All you need is to outline the expected level of qualification and experience and we will do the rest. Our solid recruiting experience and sufficient pool of high-level specialists will provide the best candidates on demand.

Cost efficiency

Higher rates of software developers' fees in the US and Canada make this labor market less attractive for clients who know the real value of money. With a dedicated software development team, you needn't pay four times as much for the same work. Besides, hiring remotely spares you a lion's share of operational costs with regard to holiday and sick payments, insurance policy, office space rent, and equipment maintenance, hiring and on-boarding expenses, and much more.

One of the key objectives of IT outsourcing has always been cost-effectiveness. In fact, a pricing model plays a pivotal role in forming a successful outsourcing relationship by aligning to the interests and expectations of both the outsourcer and the service provider.

Learn more: The Best Outsourcing Pricing Model for Dedicated Development Teams.

Long-term engagement

If you are looking for stability and long-term collaboration, signing a contract with a dedicated development team is a winning business strategy. Finding a team that corresponds to your skillset requirements, has hands-on experience with the necessary technology stack, can integrate with your corporate culture and vision, and align with your business goals will definitely strengthen your position in the market.

Full involvement and control

By hiring a remote dedicated development team, you gain a 100% commitment to your projects. No other processes and engagements can interfere with your project. It also means you exercise total control over the workflow and remain a sole decision-maker in hiring, firing, altering the project's direction or any other administrative issues, unless you decide to delegate your authority to the on-site manager. We ensure transparency by sending a detailed monthly report on the processes, team structure, responsibilities, involvement, and salaries.

Increased productivity

Multitasking kills productivity. Staying focused on one project 100% of the time, as dedicated teams do, increases productivity exponentially. Outsourcing a function to experts with a proven portfolio is more economical than having to spend resources on training your in-house team, especially if they already have a lot on their plate.

Timely responses to emergency

Work never spreads evenly over space and time. Bottlenecks occur every now and then, and especially when you find yourself in the middle of an important project. But losing your Number-One Clients is something no one can bear. So why not hire a professional dedicated development company to help you meet deadlines? Why not outsource some tedious job?

Faster to market

Hiring a team of professionals who have worked together for quite a while saves you the pains of early attrition that freshers undergo before gelling. Skipping the learning curve and getting up to speed earlier is greatly determined by how familiar the team members are with each other. It's been scientifically proven that even a 50% increase in software developers' team familiarity reduces coding mistakes by 19% and the budget by 30%.

More flexibility

Adjusting the size of your remote team to your actual needs has never been easier and faster than when you are paying on a monthly basis. All you need is to send a month's notice to add or remove staff from your project. Having a dedicated development team at your disposal makes your business processes more flexible and easily scalable.

You cannot manage what you cannot measure… and what gets measured gets done.

Learn more: How to Manage Cost and Time of Agile Software Project.
Create your team of dedicated software developers in a few clicks online
Scaling up your business has never been easier. Build your very own dedicated team of developers in three steps:
Click to open the teambuilder.
Add the members, adjust their expertise and skills. See the monthly rate.
Leave your email and get the full estimate.
Wait for our expert to get back to you and discuss the requirements in detail.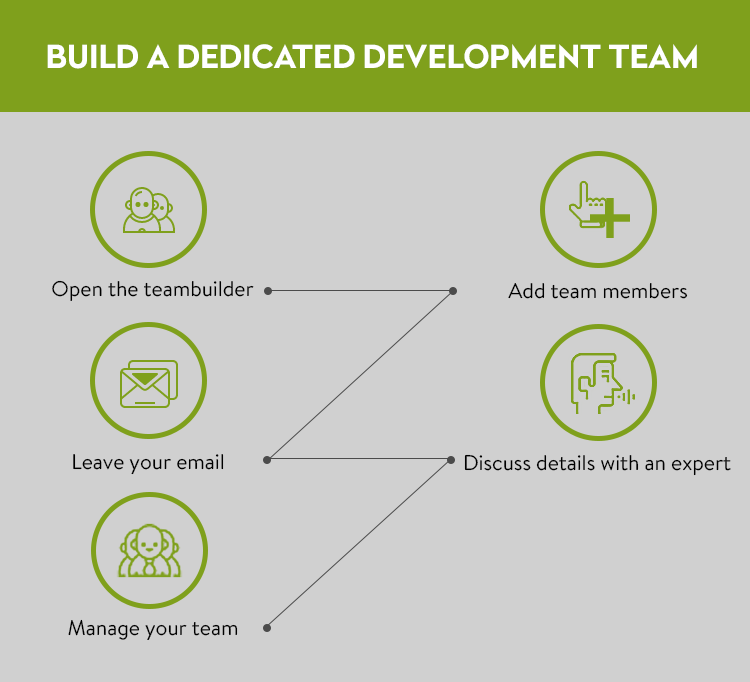 How much does it cost to build a dedicated development team with CodeTiburon?
Some final thoughts
Many companies have some reservations concerning communication and collaboration processes between the in-house and remote teams, especially located off-shore. However, with an advance of new technological solutions, this is no longer an issue. What really matters is whether you have clear expectations of what you want to achieve as a result, how the team will fit in with your company's strategy and vision. Setting up work with an off-shore dedicated development IT company requires a good deal of learning. But at the end of the day, if the above-mentioned advantages count, this engagement model is beneficial for all.