Building a real estate website – a necessary evil or success story?
Updated July 5, 2018
Business success is deeply rooted in a customer's lifestyle, pains, and habits.
A couple decades back, homebuyers used to brush through newspaper ads in search of a realtor or agency. Ten years ago they looked for a home on Craigslist, 'googled' its whereabouts, jumped in their car and visited the location. Today they simply take their smartphones and handle the rest on-the-go. Tomorrow… Will they even need to go anywhere tomorrow to close a deal? To renovate? Design? Furnish the place? Or will they simply oversee the whole process through their hololens / smartphone camera / whatever-gizmo-is-to-come-next?
If you're only contemplating an idea of a real estate website development, you're already way behind your competition and blissfully unaware of what's brewing in real estate technology industry, but just in time to see arrows in trailblazers' backs and decide which way to go.
Profit aside, there are plenty of reasons to invest in a website. You may want to:
build or extend a client base;
position yourself as a thought leader;
promote your brand;
take your business to the next level;
stop using paid marketing services that everyone else uses.
And on top of that, a real estate agency without a digital home of its own… in the 21st century… sounds kinda weird, right?
With a bit of experience under our belt, we can offer our vision of where to start and what to aspire to with a real estate website.
But first, let's see how top RE businesses view their website's potential.
Use the plan below to jump to a question of your interest:
Top real estate websites – what they know better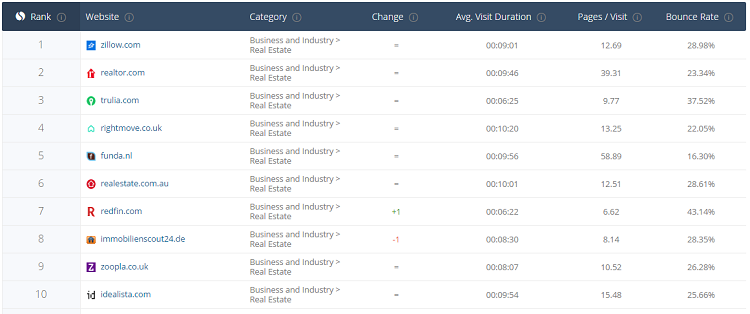 Courtesy of SimilarWeb
What makes top real estate websites better than others
From the marketing perspective, they rank high in global search. And they capture most of the traffic. For example, 10 largest real estate listing portals in the U.S. are capturing nearly half of all non-mobile traffic to U.S. real estate-related websites. Top four on this list have had a stable position over the past five years.
How the best real estate businesses use their websites
Top RE companies must have cracked the code of success. Let's learn from the best. What's their real estate website for them?
A communication point for connection between all parties involved. Whether it is a networking page, a community, or a forum, every site owner decides on their own strategy of communication with the end customer. It's crucial for a site owner to position themselves as a local community expert – by creating a community page, you can share insights into local life with all the interested. Knowing what people search for in your area is a surefire way to provide relevant information and get noticed.
A marketing tool that provides users with a friendly data search and convenient customization options. Long passed the times when every brand guarded their own clientele and made their policy top secret. To survive today, you have to share and provide the best of user experience. How? Most top U.S. real estate companies sign an agreement to share a multiple listing service (MLS) database – a real-time database bringing traffic to sites like Zillow, Trulia, and Realtor so they have accurate real estate listings.
A one-stop shop in a property buyer experience. The way people search for property today has transformed a real estate site into an information trove that guides a potential buyer throughout the process of property purchase. Once an arcane art only known to realtors and brokers, it is now in public access. By providing the most relevant quality content, you engage in lead generation and grow communities of happy informed customers.
Inclusive rather than exclusive. It does not discriminate against professional realtors by making buyers self-sufficient with knowledge. It facilitates buyers' as well as sellers' needs and makes use of experts' assistance by balancing personal learning experience and professional aid. Many popular sites invest in technology rather than expert opinion – and that's where they get it wrong. Expert knowledge is the most valuable asset to rely on.
A safety zone. For those in online RE investing business, success spells like 'safety and transparency'. That's why they practice a strict review process before granting admission. Striking the right balance between the riskiest crowdfunding solutions and the costly consultants' services is a challenge that requires smart technology investment.
Does your digital real estate business have to be big and globally renowned?
Not necessarily.
To begin with, no one is born big or becomes successful overnight. Growing is important, but it's not your top priority right off. Besides, small steps and steady growth are more enduring.
Secondly, building global presence may be a tempting long-term strategy, but real estate depends on local search more than any other business – so providing a comprehensive local coverage will give you more credit and a kickstart to growth.
And finally, everyone needs a minimum viable product (MVP) to test your hypothesis and a direction to grow in.
How to build a great real estate website: a minimum feature-set
By looking at the top real estate websites, it may be tempting to have it all in one day, but it's not the way it works. Every business starts small. Even the most brilliant and innovative idea needs verification. Do you think you know your users and their primary needs? Let's explore how sites help their primary users:
Real estate websites for buyers/tenants help…
find local property;
view property details;
see the location on the map;
get historic, cultural and other information about the area;
calculate mortgage costs.
Real estate websites for sellers help…
estimate their homes for sale or rent;
learn about market trends.
Real estate websites for agents/brokers/realtors help…
advertise the property;
provide expert advice;
access tools and analytics.
You as a site owner can make a real estate website to…
test your initial business hypothesis;
create or expand a customer base;
promote your brand;
gain trust as a local RE expert.
What's a minimum viable feature-set to achieve these goals? Below we describe five features to start with. However small, this feature-set is a cost-efficient painkiller for your clients.
#1 Listing system
Listings are property details a user sees on your site. Where to get them? That's an important question to ask. Whether you pay for tapping into a 3rd party listings (like MLS), pool resources with other RE companies, single agents, or track FSBO (For Sale By Owner) offers, it costs. Providing fresh data for your target users – be it local or global search, a particular niche or a wide range of assets – is always expensive but worth investing into. After all, your site's popularity depends on quality as much as on quantity of those.
Property database is the cornerstone of building a real estate website – the primary reason for its existence. And the one who owns the knowledge rules the world. So how to compete with other – older and larger – businesses who live by this mantra? The answer is – strategic use of technology. Being a new and small enterprise sometimes brings this competitive edge. This is what US-based real estate companies Zillow and Trulia have achieved by trying to tip the balance in data service away from a national giant NAR's MLS capabilities. The two companies' long-term strategic plan included merger (which allowed them to own 71% of online real estate traffic) and then the use of cutting-edge technology (allowing for precision and independence). And it's not long before they will build a proprietary network and become a primary information provider.
#2 Property view
Splash out on professional photography
Every successful site owner will confirm, quality imagery is an absolute must-have since it:
provides an exceptional user experience. Seeing professional photos is pleasing to the eye – user engagement guaranteed;
boosts your SEO and increases your site's chances for better ranking;
positions you as a pro and enhances your brand's credibility;
is a tested winning strategy that allowed brands like Airbnb gain their leading position on the market.
Make your key image large, high-res and attention-grabbing. Real estate considers investing in quality design and professional photography as a top priority to fight online competition. After all, your site is the primary medium of user interaction with property and as such has to be immaculate. To provide an exceptional property view, tap into these ideas:
Verified property photos. Verification is important to protect users from fraud and clickbaits that unscrupulous sellers can put in order to attract attention. Most authoritative sites boast photo verification feature, and some (like Airbnb) get professional photographers and home stagers to take care of visuals. Real estate 360° photography is gaining popularity for both interior and street views.
3D video allows for observing the property to the full before actually visiting it.
AR/VR creates the most immersive experience. That's where reality meets fantasy. A viewer can visualize renovations or virtually design the interior. And the possibility of virtually walking the streets with a VR-enhanced street view offers a transcendental experience. Younger folk are increasingly VR lovers – keep that in mind when creating a unique user experience on your site.
Thanks to drone technology, users get a convenient view of faraway plots.
#3 Property search – research your customer's preferences
Experts claim, quality of search outweighs the number of offerings, which makes filtering crucial to a site. Make a real estate website with relevant and easy-to-navigate search filters to give your customers a powerful tool.
Make your search relevant – by allowing for customization
First, determine the 'must-have' fields. That's where knowing your customer's preferences will come in handy. We'd recommend studying local search stats to see what your visitors search for most and outline a minimum set of default filters – like location, property type, the number of bedrooms, min/max price for residential estate or any other important parameters in your niche.
Next? In addition to basic search on your homepage, you'll need advanced search where a user can set extra parameters. Provide customized search capabilities – min/max area, the number of bathrooms, etc. – again, tap into analytics to see what people are looking for in the area. However advanced, the search has to be user-friendly, not intimidating. Try restricting it to the most relevant parameters. This is how Luxury Sotogrande does it.

Finally, make it compatible with existing databases. Get an MLS – IDX integration, so that when you add a new property to your MLS, it appears automatically on your website. If you're building your site on WordPress, we'd recommend the Showcase IDX plugin to provide a top-notch browsing experience across a variety of web platforms and devices.
Smart home technology info – where to place it in the search
Believe it or not, your target clients are getting increasingly innovation-savvy and would prefer smart and green solutions as a separate search category rather than an 'uncategorized' option in your search engine. In fact, 81% of US home buyers would opt for a home with smart products already in place.
Perfect timing to make a mark with your 'smart' home search capability, eh? For example, The California Regional MLS is piloting a program with five fields to describe a home's solar energy system: size, age, ownership, output, and the source of the data. This information has to be added to the backend to 'automatically populate' a set of options for real estate professionals. This new feature provides more than 80,000 realtors in California the ability to list specific solar energy data for the first time, which is pertinent as California is home to many properties with solar features and the tendency grows.
Easy to navigate translates into great real estate website UX design
Last but not least, remember what mission you want your visitors to accomplish once they've spotted a perfect place to live in. That's right! To contact your agency right away. Just place a CTA and an agent's contact information (and probably links to other properties managed by the same agent) – and you get a happy lead.
#4 Property valuation
Sellers and buyers alike are curious to know how much a property is worth. No one wants to leave money on the table – so expert opinion is what reconciles both parties. Professional realtors know that property value is not a constant, especially since transactions are not frequent. It's determined by many factors, like location, condition, the market state, and others. What can make an RE website more trustworthy than its ability to provide adequate property valuation?
It's a worthwhile investment to find a tool or build your own web-based "product". Take Zillow, for one. It makes a special point of estimating property's 'worth'. It uses Zestimate – an AI based calculator. "Zestimates" are estimated home values based on 7.5 million statistical and machine learning models that analyze hundreds of data points on each property. And, by continually improving the median margin of error (from 14% at the onset to 5% today), Zillow has since become established as one of the largest, most trusted marketplaces for real estate information in the U.S. and a leading example of impactful machine learning. Recently Zillow has set up a competition with a $1M grand prize, challenging the data science community to help push the accuracy of the Zestimate even further. The participants will develop an algorithm that makes predictions about the future sale prices of homes.
Mortgage information / Calculators
The part buyers fear most about getting into property ownership is the financial and legal hassle it entails. How to evaluate the ability to pay the mortgage loan? A mortgage calculator is a useful tool for a buyer. It helps work out how much a buyer will need to cover the loan. You can alter the loan amount, interest rate, and repayment frequency to suit your specific requirements. Granting your users free access to this tool is a perfect way of lead generation.
#5 Area and community pages are your secret formula of success
Property search is always location bound. 69% of people who take action on a real estate site start with a local search term. We form our preferences based on neighborhood information. It may be hard to compete with giants like Zillow and Trulia in the quality of search they provide, but you may easily beat them at the quality of content. It's your ticket to skyrocketing your position on the online market. We tend to give more credibility to a website providing quality content.
So what content will engage visitors and make them return to your site? Relevant, useful, original, and easy-to-consume:
Blogging is a great marketing facilitator. Although time and energy-consuming, it allows us to provide market updates and useful real estate information that draws users to your door. Compared to SMM, whose effect wears off with time, earning organic Google traffic by blogging boosts your site's ranking in the long run. The top 10 RE websites have adopted this strategy to drive organic traffic to their sites.
Area (or neighborhood) information give an overview of schools, parks, restaurants and other amenities. This is what primarily interests potential buyers. Large real estate platforms like Trulia and Zillow provide an array of statistics: neighborhood property values, school ratings, crime rates, sale prices, foreclosure alerts.
Community pages. Take advantage of creating community pages that provide the necessary insights into local culture and lifestyle. What can possibly create a positive aura? Local traditions, celebrations, places of interest, special events and whatnot.
Dynamic heat maps will be indispensable for newcomers to an area. A perfect way to visualize real estate market trends and form user awareness of vibrant new spots.
Street views give a convenient look of surroundings before you travel to the actual location. You may use panoramic photos of Google's Street View Trusted, make your own ones, or record a video tour, and even enhance a search with an overlay. Street views are great if you explore property from mobile devices. At the very least, the feature is engaging, informative, and easy-to-consume.
Isn't creating a loyal community on top of your marketing plan? The only proven way to do that is by consistently informing, entertaining, and educating visitors – in other words, by creating a robust content marketing strategy. But there's more to that! High Google ranking comes as a result of content creation rather than any other marketing tricks.
Let's recap. Your site is a tool to implement your business strategy and achieve goals. Small doesn't mean useless or irrelevant. Small steps take you the farthest. Here's your MVP to grow from: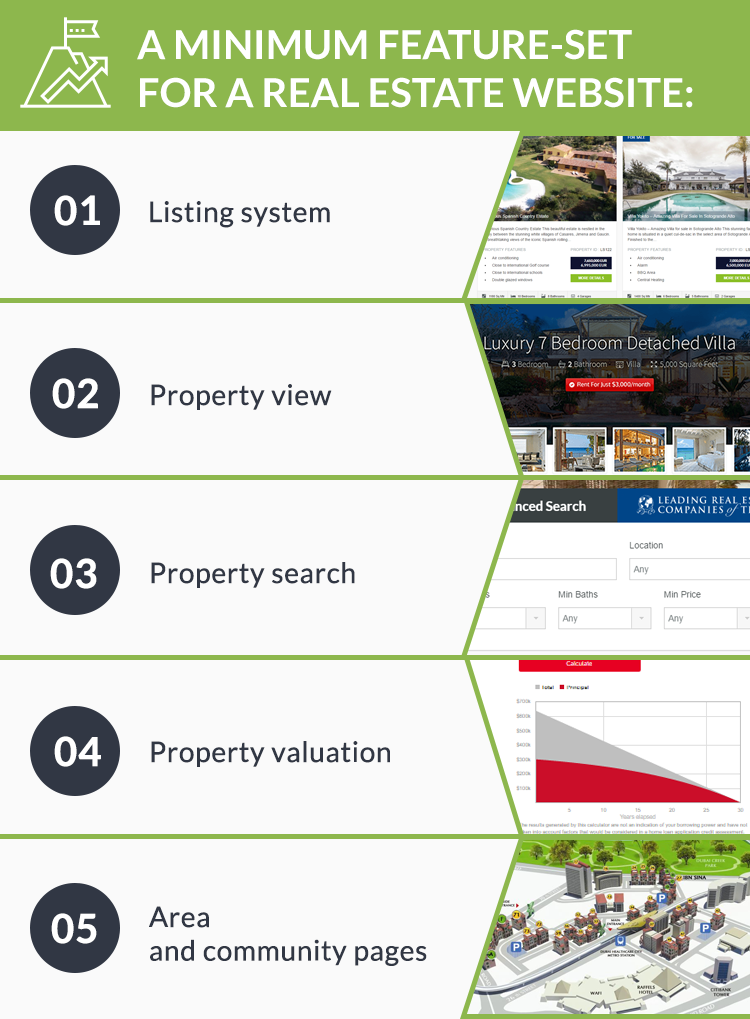 Are you sure you know the intricacies of building a real estate listings site?
Virtual and augmented reality – the future reality of real estate
There's been a lot of talking about virtual reality for real estate. Skeptics claim that agents don't need it, new technology always costs, and there is no way it would sell homes. Whatever they may say, the reality technology is here to stay and it's success or failure is hardly influenced by those who serve the market. Rather we'll see the proof of the pudding in its use – how property buyers benefit from it. Being in business means always thinking about your clients' needs. Judging by the habits of the new generation, their passion for immersive experiences is not going to subside.
Remember that the people searching for a property will first browse their options and visit numerous virtual tours before actually making a face to face contact or calling an expert. Do not just support current industries, because if we did we'd still be riding horse and buggies today.
Virtual real estate is already in place and is bound to transform the industry forever! Do not get left behind!
With virtual and augmented reality your clients will get:
High level of engagement while buying process. AR and VR create experiences that require active buyer involvement. By modeling and animating elements of the desired property they can get a feeling of strong engaging experiences.
The emotional connection to the property. Virtual reality can teleport your customer to the property of his dream.
Ability to customize property before buying it. VR and AR technologies give your clients the opportunity to see the effects of renovation and redesign long before they take the final decision.
Reach out to a prospect. VR and AR technologies grant access to a property from any distance and provide your customer with a meaningful and impressive immersive experience.
Differentiation. These technologies will make you stand out from the crowd. Your customer can walk the hallways and explore rooms of a property as if they were there.
One thing is to talk about how great is virtual and augmented reality for real estate, but another is to actually see how it's used and what benefits it can bring to real estate. To give you a more profound understanding of AR in real estate, here's a story of CBRE Manhattan – the leader in commercial real estate in New York. To promote their properties and to stand out among its competitors CBRE decided to use AR technology.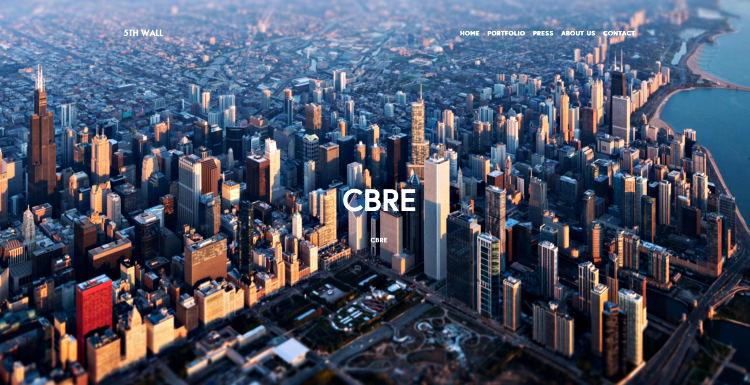 Augmented reality empowers their marketing and sales strategy. They created an immersive and engaging app for their clients. Their goal was to highlight CBRE properties in lower Manhattan and share key decision-making information with prospects in an interactive experience.
The app itself is an Interactive map, where you can see key information of your surroundings such as demographic group, parking, subway, restaurants. This 3D map allows users to learn more about a chosen area. The way it works, you need to point your camera view at the Manhattan map and its 3D model will appear.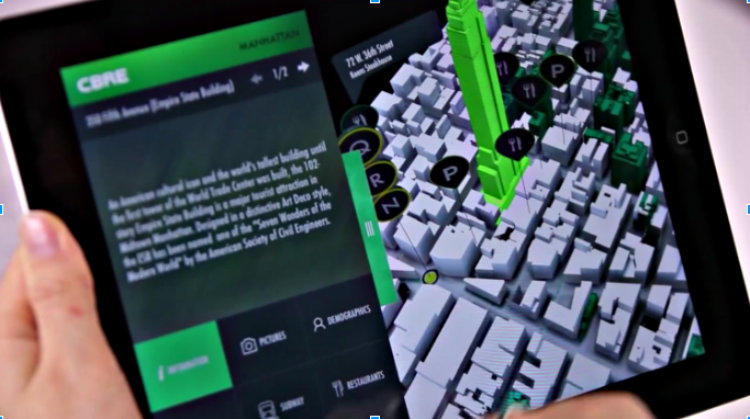 To sum up, your business needs VR and AR technologies because it will lower your expenses, provide worldwide reach, let your clients customize any surface they want and will make you stand out among your competitors.
How to monetize your real estate website
Building a high-quality website is costly, especially if you plan on growing it into a powerful multi-functional platform. The image of a website as a mysterious black hole to pour cash into scares off some entrepreneurs. Others have a vague feeling that their site can easily be a fat cash cow. So if you are eager to know how real estate websites make money and how you can get revenues in autopilot mode, read on.
So how do real estate websites make money?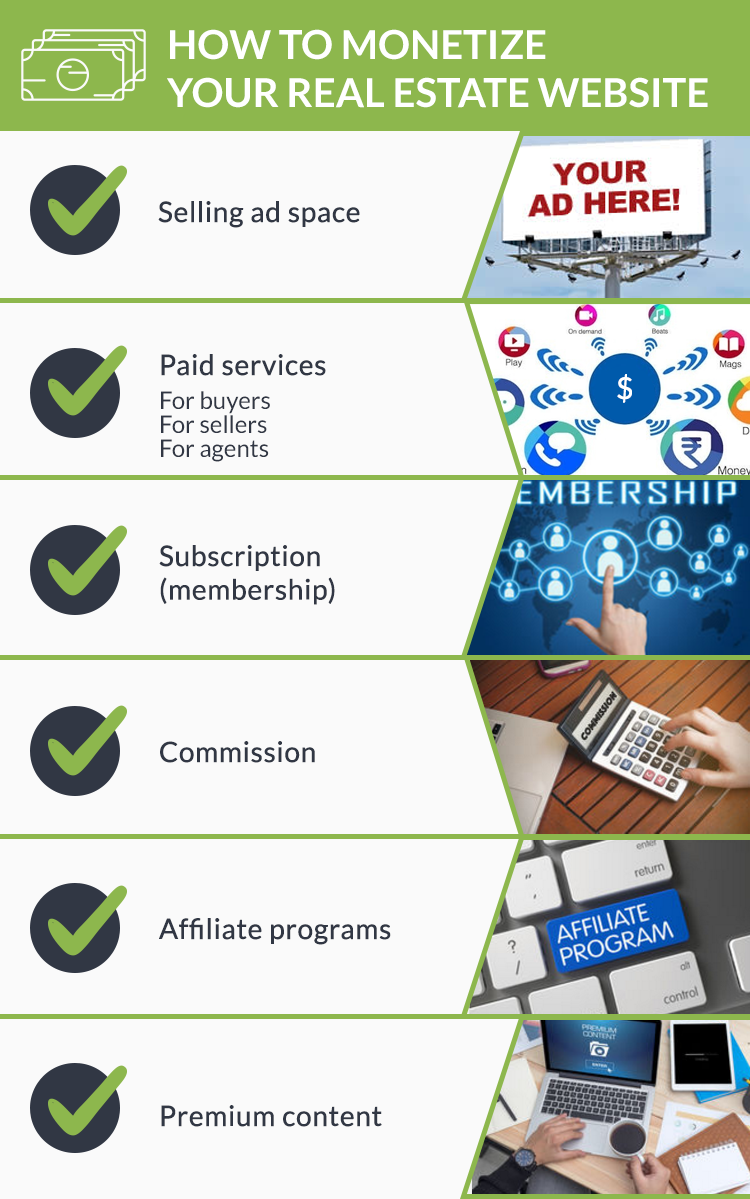 Selling ad space
You may start with Google Adsense, a cost-per-click advertising program, by creating an account and adding a piece of HTML code to your website.
Grant other agencies access to advertise on your website. Banner ad revenues are the easiest to get for up-and-coming sites. Your site's admin will place approved banners on top, bottom, or side of a page and then track and report on their efficiency. Most large US sites, like Zillow and Trulia, are data markets, selling advertising around data they've compiled from various sources. RE sites sell advertising to real estate agents, mortgage brokers, banks and others who are seeking the business of property buyers, owners, and renters. The majority of this advertising is display ads, usually sold by zip code, but some sites charge based on cost-per-click or cost-per-acquisition.
Paid services
When your services and tools are exceptionally good and popular, you may limit free access to some functionality or introduce paid options. A common practice is to provide a mixture of free and paid services – a freemium model of payment. Striking a balance between the two allows to keep leads and make a profit.
For sellers
Some functions attractive to sellers can get partially or fully paid, e.g., valuation, post listings, highlight listings, lift up listings, slide-show listings.
For buyers
By placing a mortgage calculator/loan application forms, you can get a paid quote request (per lead). Granting buyers paid access to a seller's contact information details is practiced by RE portals.
For agents
Agents may opt for paid services like 'show photo' or 'featured agents (agencies)'. You may create combined packages of services for agents, like Zillow's Premier Agent, for example. It's a CRM platform for agents to promote their listings and find new clients. Zillow has a freemium model for listings placement, which means you can do it for free or you can upgrade to the paid premium plan. The second option gives you two advantages:
exclusivity. You feature as an only agent promoting your seller's property. In the case of a successful closure, the full commission is yours. Otherwise, you compete with other premium agents, who may reap benefits of your listing.
wider reach. As a Zillow Premier Agent, you also get to advertise on the local listings provided by non-Zillow Premier Agents. This is a great way to generate buyer leads even if you don't have a listing of your own to advertise on Zillow.
Subscription (membership)
You may range accessibility and fees by creating various subscription plans rather than charge for each service separately.
A subscription business model requires that your customers use your services or product in exchange for subscription fees – periodic (monthly or yearly installments). This is what NAR's MLS do – allow paid members limitless access to their listings. A large Ukrainian RE website Dom.Ria offers several subscription models for single agents and brokers.
Commissions
There are a variety of ways a website gets commissions from: from assistance on posting listings and closing deals; from selling leads to RE agents, etc.
Affiliate programs
Affiliate (or partner) programs allow partners to earn friendly commissions in exchange of driving traffic to the site.
For RE classifieds that are just taking off, there are plenty of affiliate program offers. Just check the sites like offervault or odigger for RE CPA's.
There are affiliate programs allowing RE agencies to partner and get commissions for posting property ads and forwarding users to their partners' sites. For example, Dom.Ria has launched a program cobrand.ria.
Premium content
As we've said before, blogging and creating useful content for the area and community pages attracts massive organic traffic. Some of this content can be made gated – this allows you to either charge for the most valuable pieces or give it out in exchange of users' personal information if lead generation is your priority.
To conclude
The same way as investing in earth (real estate) unleashes your creativity and ingenuity, online presence opens new horizons to well-established businesses and startups. Website creation is not a necessary evil to withstand competition. It's a new land of opportunities to explore, conquer, and reign on.