In an ideal world, all best things are free and business yields profit. Well, that's not an ideal world, and the best ecommerce website costs an arm and a leg. Sorry, folks, it's either freebies or bucks!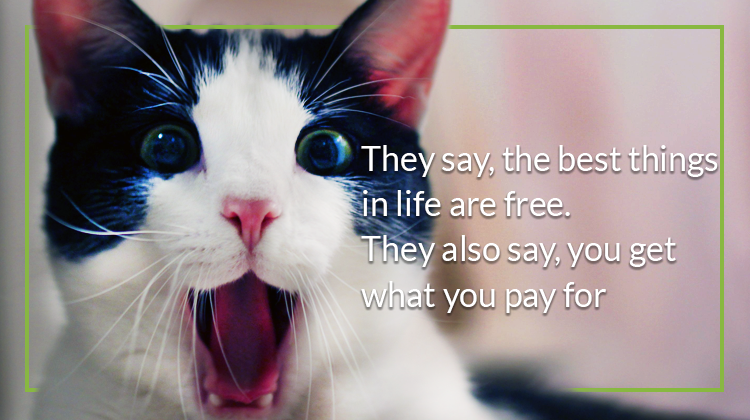 And it's okay as long as the cost of a Magento website is explicit enough. But since you're here, I bet you need more clarity with Magento pricing. Transparency is a key to trustworthy 'client – vendor' relations. And it's one of our core values here at CodeTiburon. Which means we're here to help.
TL; DR
Magento is a leading e-commerce platform for online stores big and small. It wins by all-round flexibility and utility. Whether you go for a free or paid version, you want transparency with implementation cost. Do you need all you're paying for? Below, we'll give the time and cost estimates for the basic and custom Magento store projects with Ukrainian developers. We'll also break down the expenditures and teach how to stay cost-efficient.
If that's what you're looking for, jump to the question of your interest:
What is Magento, anyway
Magento is a go-to option for a flexible, affordable e-commerce website for small and medium-sized enterprises. It provides two platforms – open-source (OSL 3.0) and commercial – for B2B and B2C merchants across multiple industries.
It's a platform market leader not only through its revenue but also due to the leader status cited in both the Gartner Magic Quadrant and the Forrester mid-size B2B report.
And here's the thing. Magento's buyout by Adobe easily gives the company a green light into the large enterprise market.
Why clients love Magento
Merchants worldwide appreciate what Magento has to offer:
Flexible shopping cart system
Endless customization opportunities
Single backend with multiple storefronts
Easy scaling without changing platforms
Catalog-management tools
Predictive business intelligence
Powerful marketing and SEO
Largest e-commerce marketplace for extensions
Vast global network of solution and technology partners
Highly active global developer community
And that's the reason why the high-profile customers like Canon, Helly Hansen, Rosetta Stone, Burger King, and Shinola trust Magento with their business success.

How much does a Magento site cost
As a merchant, what you're looking for is Magento pricing. And when you get 'In the range of $1,500 and $200,000+', you feel none the wiser, right? Well, that's what you asked for. No joke! We're ready to help. But what you are really asking is this:
How much for the edition?
What's the Magento website development price?
As a result, you get two very different answers. Let's take a close-up at Magento pricing.
How much for the edition
The implementation costs of a Magento website depend on the platform you choose:
Magento Open Source (formerly named Community Edition), free, with a gentle learning curve and access to a host of extensions.
Magento Commerce (former Enterprise & Cloud Editions), starting at an annual $22K for the license. It's an out-of-the-box product for large businesses fully operational, and scalable beyond limits.
That simple?
Alas! No. You don't think there are no hidden costs with the 'starting at' rates, do you? So, what's the REAL damage?!
Magento Open Source

When I said Magento Open Source is free, I meant it.
It runs OSL 3.0, a license allowing everyone to download, install and extend, make configuration adjustments to the software to meet their specific needs, unlike a SaaS model that locks you into a given software roadmap.
Its functionality fits small e-commerce enterprises with less than $1,000,000 turnover.
What you get free with Magento Open Source
…is these features:
Product Videos
Multi-Tier Pricing
Flexible Coupons
Catalogue Promotional Pricing
Yes, just that. You can't expect all the things in this world for free!
What you pay for with Magento Open Source
…is this:
Extensions. Though many are free, you pay for the best.
Development. Unless you're tech savvy enough to put it together. Prices vary across the globe as well as with various agencies based on their size and experience.
Beyond-the-plan expenses. Some unavoidable costs are outside any plan. Whether you need content creation or data import, it adds to the budget.
Hosting. A website's size and traffic determine the price you pay for hosting.
Maintenance and optimization. Regular updates are great for security reasons. But that means ongoing odd jobs like site updates, security patches, training, design work, extension installation, etc.
It sounds tempting to start up free. Especially when your business idea outcome is pretty vague, your enterprise is fairly small, and scaling is not your immediate priority.
Magento Commerce

Magento Commerce 2.0 (2016) will cost you in the range of $22,000 – $250,000 (per year!). There's also the annual Platinum Support Price of $26,400 – $300,000.
Here! We said it. Plain and simple.
Despite the same code stack as Open Source, Magento Commerce offers more than just the same licensed functionality. Its trump cards being technical support and dedicated account management. 'All-inclusive' means you just sit back and enjoy! Stick with the set product and pay less or get it customized and pay more.
Then again, you don't need all the functionality from day one. Magento Commerce is used by large enterprises (above $1M of annual turnover) with higher throughputs of customer traffic, larger product catalogs, wider global presence, and greater business complexity.
What you get with Magento Commerce
Besides the basic (same as Open Source) functionality, you get the advanced features:
Loyalty benefits
Targeted offering
Admin actions log
Assisted shopping
Customer segmentation
Secure payment gateways
There's an access to free and paid extensions, just like with the Open Source Edition.
You may also use the 30-day risk-free trial and get familiar with the platform.
If you're not ready for an upfront yearly payment, Magento Commerce Cloud plans may be an alternative. Go with Magento Commerce Starter that will cost $2,000 per month or Magento Commerce Pro that will cost $3,417 per month. Here's a full feature list on the two plans:
Magento Commerce Starter

starting at $2,000/month

Magento Commerce Pro

starting at $3,417/month

Core eCommerce features

Promotions and Pricing
Search Engine Optimization
Site and Content Management
Catalog Management
Catalog Browsing
Product Browsing
Checkout and Payments
Shipping
Order Management and Customer Service
Customer Loyalty
Customer Accounts
Support for Global Sites
Analytics and Reporting
Layout and Theming

Promotions and Pricing
Search Engine Optimization
Site and Content Management
Catalog Management
Catalog Browsing
Product Browsing
Checkout and Payments
Shipping
Order Management and Customer Service
Customer Loyalty
Customer Accounts
Support for Global Sites
Analytics and Reporting
Layout and Theming
Integrated B2B Functionality:

corporate account management and support
customized catalogs and price lists
tools for rapid ordering
online requests for quote workflow
increased inventory visibility across retail outlets

Cloud hosting & deployment

24×7 email support

Business Intelligence

High availability infrastructure

Dedicated hardware

Dedicated launch manager
Pretty impressive, eh? I bet you're thinking, 'Can't I get the same with the Open Source version? And if so, wouldn't it be cheaper?' Yes and ~yes.
That said, let's get deeper into the intricacies of Magento web design and development costs.
How much for a Magento Open Source website
The average project minimum budget cited by Ukrainian Magento developers is $7,677. But of course, you'd be more excited to know how far up the maximum price for a Magento project may go. Here's a vague idea of what your project may cost. (We've also got three plans further on, for more tangible estimates).
Extensions and themes

Running Magento Open Source without extensions is like traveling in a rowboat without oars. To equal up with Commerce edition, you'll need dozens of extensions. Some of those are free, others cost up to $13,000. There are over 3,000 extensions available on Magento marketplace – both native and 3rd-party. Remember though that installing a 3rd-party extension may require expert assistance.
A theme is a template of your store's graphical representation. Themes are purchased separately. They vary in quality, degree of customization, and cost (from free up to $299 on Themeforest and up to $499 on Magento marketplace). The more customizable the theme, the more expensive it gets. You may also want to get your own one designed and built. Unique themes are pretty costly. It is not easy to calculate a cost for theme development, as sometimes it's part of the overall project, but also because it is determined by particular requirements and developers' rates.
Store implementation costs

Magento website development costs vary greatly across countries and agencies.
On average, most firms' starting price for Magento design implementation begins at $50,000 for Magento Open Source and $100,000-$250,000 for Magento Commerce web development. This can be cheaper with small companies. In case you want to look into a particular area that falls within your budget, here's an average starting budget for a Magento Open Source project worldwide. Just make sure the company has the relevant expertise and working history. Check the average hourly rates for Magento web developers worldwide.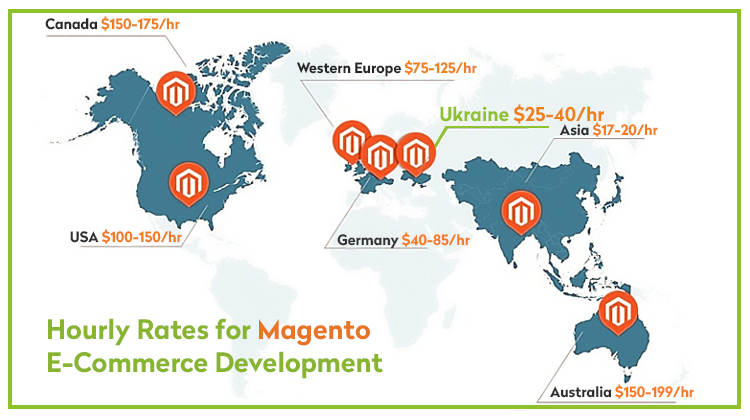 That might give you an understanding of an overall budget for your project if you want to hire an agency. Or there's an option to set up your own dedicated team of Magento developers and negotiate the cost with particular developers you decide to hire.
Beyond-the-plan expenses

Custom design. Since the Magento company doesn't provide any custom designs for your brand, everything that goes beyond the template, gets paid for. 3rd-party designs range from $0 to $200 per template. Custom Magento web design costs more. It will also mean hiring the front-end developer to implement it. Depending on your demands, designer and developer rates, theme design and implementation may add up to $7,000 to your budget.
Custom logic. You may want to implement certain modules, such as shipping or order, in a particular way, to comply with the existing solutions.
Extension development. 3rd-party extensions can be costly or dubious. So you may discuss an option of extra module development with your dev team. For example, inventory system or POS integration is part and parcel of online-to-offline e-commerce. Advanced SEO and marketing analytics solutions are simply a must for a large e-commerce project.
Data import. Switching from another platform will require migrating the data. This is a whole enterprise in itself.
Hosting costs

Due to the internal complexity, Magento is resource hungry. And that sets some limits to the choice of hosting. Let me clear that up before diving into pricing.
The price should never be a deal-breaker, really. Instead, focus on requirements and scrutinize their SLA's.
What are Magento system requirements
The system. You'll need a LAMP or LNMP stack. An optimized stack for Magento is a must. Magento environments must run a modern Linux kernel, recent Apache or Nginx web daemon, modern MySQL database and PHP versions too (with certain PHP extensions). They must also be able to run scheduled cron jobs with PHP, and override options in .htaccess files.
The capacity. An average for a Magento store is 50 to 100 visitors per GHz per hour, with 1 GB of RAM is a functional minimum. With larger stores, more MySQL storage is required.
The performance. Choose SSDs over HDDs for performance reasons.
What you pay for
Prices vary greatly based on the type of hosting you'd choose – self-managed to host (which many cloud solutions are, giving you the tools to set up the process by yourself) or managed hosting that takes care of all aspects of server management including updates and backups. The latter spares you the need to tackle security issues, which none of the servers are 100% immune to. The former requires more tech acumen or paying extra to an expert.
Another price determinant is a choice between shared and dedicated servers. In the first case, you pay less, but get limited resources, risking downtime and performance issues at peaks if you run into your maximum. It's handy while your business is still small.
Dedicated servers are much more expensive. But they come with the luxury of having the entire platform to oneself. Cloud servers lie in-between. You can set up your own dedicated VPS there and benefit from 'pay-as-you-go' and 'elasticity' properties that cloud technology at Google Cloud/Amazon AWS provides. But first, learn a thing or two about setting up EC2, ELB, RDS etc… or hire an expert. Managed VPS is a better option if you have high traffic demands, multiple sites to manage, or better data protection.
So what's the damage
That said, here's an average of what you can expect with different plans:
Self-managed hosting can start from $10 and go as high as $250 per month, depending on your store size.
For managed hosting, be prepared to cough up from $190 per month.
Managed hosting on dedicated servers starts from $500 per month.
Hosting needs are likely to evolve alongside your business growth.
How to stay cost-efficient
Since there's no way we can figure out CPU, RAM and I/O usage before people start coming to your store, here's a strategy. Begin with a shared server with a reliable provider, monitor the performance. Next, move to the entry-level Cloud SSD VPS and as/when required, just upgrade VPS instance. Eventually, opt for your own dedicated server, then CDN and geographic collocation and so on.
Maintenance and optimization expenditures

Running an online store is nothing like setting it up once and sitting back enjoying the fruit. E-commerce is highly competitive, which means putting in a tremendous amount of work into its timely updates, security patches, design work, extension installation, SEO, and holiday promotions.
Have problems creating custom promo codes? Our developers-on-demand model of cooperation is a good transition from the website implementation into on-demand maintenance. You'll get your monthly service to cover technical help, design, or development.
Two plans for Magento Open Source Websites
How to minimize your project costs? The two options below are targeted at different stage and size of e-commerce enterprises:
Basic Magento Website – best for starting up from scratch. A simple pre-built theme or PSD design will drastically reduce the cost and time-to-market. All you need is set up, configure, customize and test.
Custom Magento Website – for online retailers with some e-commerce experience under their belt. Business growth and international expansion are the right reasons for switching to the custom Magento solution.
Basic Magento Website

$8,000

Custom Magento Website

$8,000-$75,000

Under 6000 SKU's
Install the latest Open Source Magento edition
Integrate/install a chosen theme into the latest stable version of Magento
Simple design implementation
Set up transactional emails with logo
Integrate payment processors such as authorize.net and alternative payment methods from PayPal, Amazon, Google etc.
SSL setup
Product and category setup and configuration
No integration with back-office systems
Testing
Basic shipping & tax configuration setup
Internal quality assurance (QA) to ensure cross-browser compatibility and functioning of all features

More than 6000 SKU's
SEO starter package
SEO advanced package
Inventory system or POS integration
Multilingual store-front
Advanced 301 redirects
Custom homepage Design, checkout page, product landing page, etc.
Custom banner/graphics
Different pricing for wholesale, partners, and retail customers
One-page checkout
Address validation at checkout
Advanced reviews
Autocomplete search
Gift registry
WordPress blog integration
Social media sharing option
Facebook login
Connection with back-office accounting systems, Salesforce, rewards program, and other affiliate marketing systems
Testing/ QA
Code documentation
Warranty and support
Data migration
Advanced shipping configuration

Bonus feature:
Magento website: how long does it take to build
It takes from 1 to 8 months to develop a Magento website depending on the complexity and degree of customization you require. Below are the minimum estimates of man-hours for a Basic Magento project time length.

Wrapping up
The estimates above are the average in the industry and can be viewed as referential rather than precise. The price of development is never a constant. A lot of factors will determine a particular solution: your priorities, how well-documented your project is, how dedicated the team is, how many 3rd-party integrations there are, etc. So if the price sounds too good to be true, you'll probably get what you're paying for. A straightforward talk and RFP with a development company will resolve the questions you may have.
How much does it cost to build a Magento store with CodeTiburon?