Today brands are constantly looking for a way to differentiate themselves from their competitors.
And the most frequently asked question is:
What kind of marketing strategy to use?
Mobile apps help automate your business and provide a better customer service, but has it occurred to you they can also be part of a great marketing strategy? Read on to find out how to promote your brand with mobile apps.
How mobile apps help businesses
Today mobile is everything! This is crazy but you can find everyone in your target audience through mobile! Do not underestimate its power, or you'll be left behind.
Mobile apps have become an extremely useful way to improve customer's experience with mobile and boost sales. According to Ipsos, 52% of customers that are using a branded app are more likely to buy the brand's product. So, why not use this opportunity to your benefit?
The mobile app is an ultimate marketing channel for brands. Benefits of having a mobile app for your business are endless. You can have a deeper connection with your customers if you go mobile. It can deliver a real-time solution, share information about offers and sales, and also make you a trustworthy brand in the eyes of your customers.
Now, let's explore how exactly marketing through mobile apps can work its magic on your business.
Here are six ways mobile apps help businesses as powerful marketing tools.
Customer connection
With mobile apps, you can connect with your customer the way no other media can:
Personalized Content. When personalizing the content, you instantly engage your customers with your app and keep them coming back for more. Customers want to experience content that is relevant to them and their interests.
Push-notifications. It reminds mobile users that they download your app and encourages them to use it. To create an amazing push-notification follow these simple rules:

Content is king
Make it compelling
Drive cross-channel interactions
Know your customers
Don't overdo it

In-App Messaging. These messages get sent to a user while he is in an app. It is a good way to engage with your users because it reaches your entire target audience, is built into the app experience and extremely personalized. Messages can introduce new features, and drive conversion.
The difference between buying media and creating an app is that apps allow marketers to have direct relationships with brand's target audience. Users always have their phones with them, so you can reach your customers anytime you need. So, a mobile app is a brand's own marketing platform.
Increasing brand awareness
You might be wondering how mobile apps can increase the level of brand awareness.
People follow other people, customers will use your app because they know their friends are using it. This is a perfect way to get users to not only use your app but to continue engaging with it and incorporate their friends. So your brand gets more recognition without extra effort.
To actually get users talking, you need to do two things:
Create an app that reflects all the features your target audience is looking for.
Involve your customers in the app as much as it's possible. Remember about the 'effective frequency'- the more users get exposed to an app the more chances they are actually going to make a purchase.
Collecting data about consumers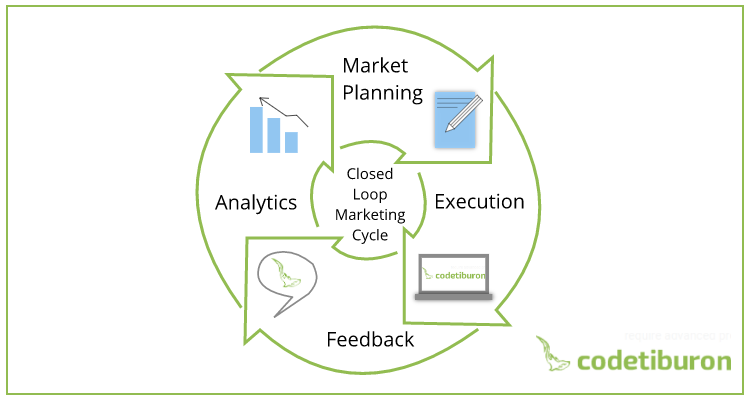 Everybody knows that the key to a good marketing strategy is analyzing customer behavior.
Want to know the best part?
By using mobile apps for businesses as a marketing channel, you can instantly track user's behavior like personal online shopping, browsing habits, and their way through the app, you might need tools like A/B testing. So marketers can understand what their audience needs and improve their app way quicker. It gets better, you can have a basic questionnaire in the registration form, or if your app provides discounts you can trade discounts for information via bonus questionnaire. This way marketers can stay on track of the closed loop marketing cycle.
Useful tip:
Give your users a chance to tell you what they want from your app. Create an engaging flow by adding a review/feedback section. Remember, customers won't use an app that doesn't involve. This way you can update your app the way your target audience wants it.
Increasing loyalty
Today, in the era when self-differentiation has become a great challenge between all kinds of brands, what you really need is customers loyalty. You need to create a connection with your customers and make them true fans of your app and brand.
How to do that?
Loyalty rewards. By rewarding your frequent customers you can encourage them to purchase more and return to the app.
Growing your target audience
These days mobile connection has become essential to many customers. It means that a mobile app can help marketers to reach a far wider audience all around the world. Thanks to geo-targeted push notifications, localization and location-based content you can send specific messages to the right people.
You can give users specific content based on their region or even exact location mapping. Location-based calls-to-action feel much more personalized and drive more effective sales. This way you'll target people that actually want to be targeted, even if they don't know that yet.
Common mistakes to avoid when creating a branded mobile app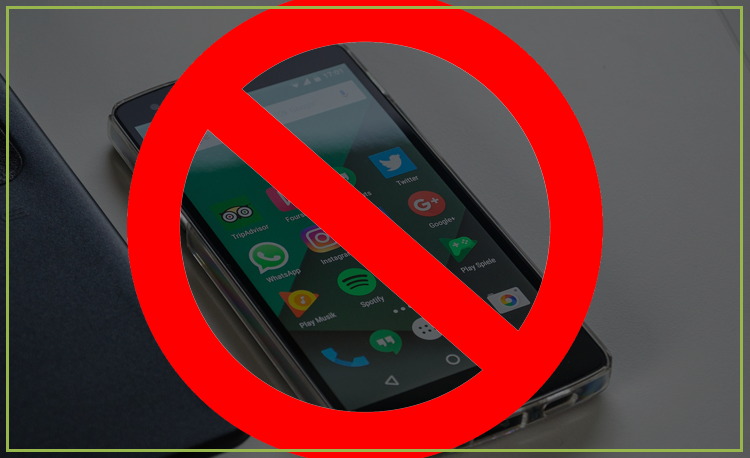 Consider this, only three out of four apps are used after the first launch. Sure, you can get a user to download the app with the help of an interesting icon, a catchy name or an attractive description, but it doesn't guarantee that the user will return to your app.
But how can I keep customers using my app?
Well, today is your lucky day, because here and now we'll share with you five mistakes to avoid while creating a branded mobile app. So, you're in trouble if your app:
Doesn't solve the customer's problems. If you are thinking that to create an app just for advertisement will be enough you are horribly mistaken. Not providing your user with app's ongoing and convenient value can lead to its complete failure. Study your target audience and determine what they would want from your app.
Lacks special offers. If it does not give customers discounts and other app usage benefits, you can say goodbye to brand awareness and customer loyalty.
Hard to use. The right way to kill your app is to make it complicated to use. No customer ever would wanna use an app that requires a lot of work and time to understand.
Lacks updates. With the constant evolution of technologies, without keeping up with new trends and implementing them into your app can you would probably be left behind. So, refresh your app as soon as you changed something in your brand whether it is a website design or a marketing strategy.
Created as a desktop experience. Thinking that an app is just a smaller version of a website with the same features is a very stupid move. What you need to do is to adapt to a small screen, then focus on the truly important features and information.
Story time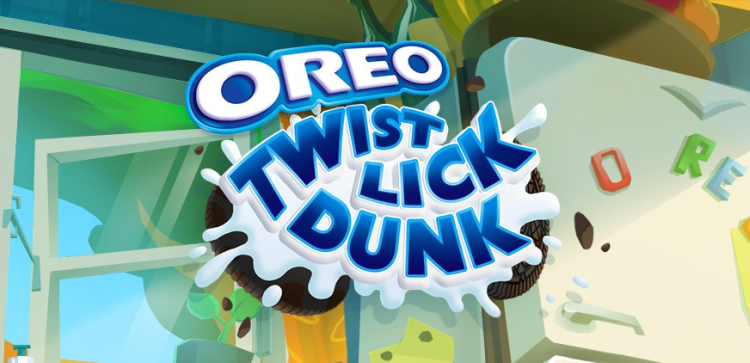 Oreo, the most popular cookie brand in America, has been on the market for 102 years and has always been on top of its game with advertising and marketing efforts. Over the years, Oreo's successful marketing campaign was planned around the theme of enjoyment and the fun of eating cookies the twisting, licking and dunking way.
After all these years Oreo learned its target audience inside out. The beloved cookie brand targets moms as the first-string buyers. So, when they decided to create a mobile app for business as a marketing channel, the way to go that was obvious – based on the fact that the majority of people playing casual mobile games are women. They decided to build a branded gaming app – OREO: Twist, Lick, Dunk.
Mondelez partnered with PikPok to create an ultimate fun and engaging game for its target audience. The app is based on a popular game mechanic and real-life Oreo's cookie ritual. The OREO: Twist, Lick, Dunk app provides users with an amazing game experience, brand information, and the possibility to share it with your friends through Facebook.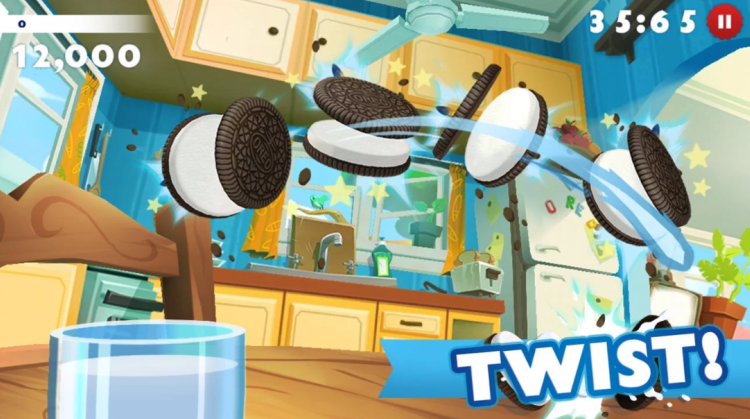 The OREO: Twist, Lick, Dunk app has become the best performing branded game ever launched. It was ranked number one in twelve countries and made it to top ten in thirty-three countries.
Thanks to the app's gigantic success, Mondelez has got quite an impressive number of awards like Mobile Mafia Awards, IAB Mixx, AME, and Mobile Marketer of the Year in 2013.
Oreo's mobile app has had more than four million downloads with no money spent on media advertisement.
A lesson to learn from this: Oreo made a smart move going mobile. TV ads can be forgotten in seconds, but a high-quality mobile app game drives hours of direct customer engagement.
How to plan your mobile app marketing strategy
If you've already decided to build an app as a marketing channel, the first is to figure out your mobile marketing strategy!
Mobile app strategy
Determining what your app strategy will be is one of the most important steps in creating a mobile app. Take some time to understand what exactly your business needs. Today there are three types to choose from:
Acquisition. The user gets useful mobile features in exchange for his personal information.
Engagement. Activities in the app that allow customers to engage with your brand.
Conversion. Also, has an engagement aspect, but focuses on driving users to the conversion.
App types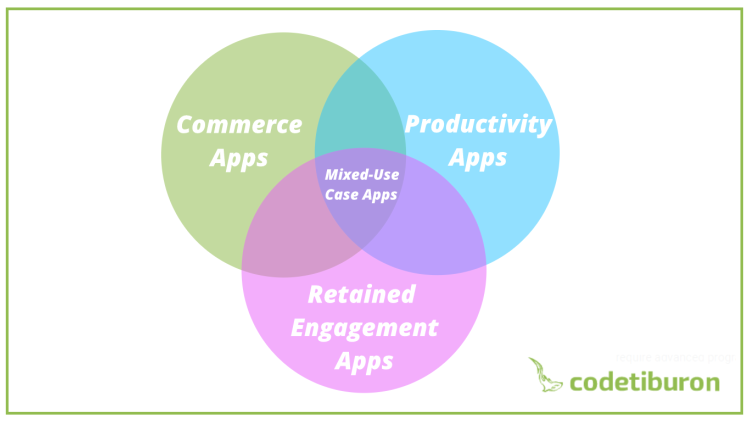 Besides the strategy, you will need to determine what kind of app is best suited for your business.
There are four types of mobile apps:
Productivity apps. The goal is to help users to stay organized.
Commerce apps. The goal is to sell the products.
Retained engagement apps. The goal is to gain and retain the attention of the user.
Mixed use case apps. Can combine a few or all of the above.
Pricing Models
Next thing, you'll need to figure out which payment model and pricing are best for your business. Before choosing a model, analyze your cost and value, estimated demand, competition, and the cost of user acquisition. After collecting and analyzing all the data, you have four different pricing strategies to choose from:
Free. The Model does not require any user payment, it means that the app is free to download and to use. The revenue comes from ads within the app.
Freemium. The app is free to download. But if the users would like to install premium features, subscription or get the additional content they have to pay.
Paid. The paid pricing model requires users to pay once in order to download an app. The app comes with complete functionality and all of the features.
Paidmium. This model requires users to pay for downloading an app and then he has an option to purchase additional features, content, or services.
Here's more information about the difference and use cases of these pricing models.
App Promotion
In-Store. This way you promote your app as you would normally promote a product. You can do a TV commercial. If you have an e-commerce, consider running a promotion campaign in it for the users to see it and instantly download your app.
Website. To convince your users that your app is trustworthy, it is necessary to have an online presence. It will show your customers that your business is legitimate and well-established. Feature your app on the site and give it enough space. Maybe even create a landing page for an app and don't forget to include a link to it.
Blog. Add a blog to your website and write about your app. Remember, content is king!
Email. Email marketing is still relevant. Do not forget to include an app promotion to your daily emails. It could be a newsletter or even basic email. Just make some space in the email footer and place there one line to promote an app. Put there a link to an app and some details about its features.
Review Sites. Getting your app on reviewing sites can bring traffic to your website, and increase your App Store page visits.
Social Media. Today it is one of the most important channels to promote an app. You can do it in two ways: paid and organic. Organic promotion requires your presence. All you need is create an account and post content that will be relevant to your mobile app target audience. Do not over-promote, post enough about your app and other meaningful content. With paid option, you can boost your discoverability.
Public Relations. You can create a buzz for your app by making a press release, hosting a launch party, don't forget to invite the media, using guest blogging and giving interviews with newspapers and tech bloggers.
App store presence. Optimize your app by having primary keyword in the title, include keywords in description.

Conclusion

Mobile apps can become an ultimate branding channel. If you are still not using mobile apps to market your business, well, you might be left behind. Do not let your competitors overtake you! After all, if you don't do it, somebody else definitely will. So step up your game and open new marketing possibilities for your business.